All Quiet on the Western Front
(1930)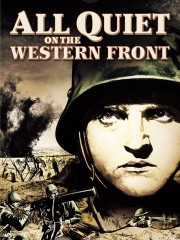 TOMATOMETER
AUDIENCE SCORE
Critic Consensus: Director Lewis Milestone's brilliant anti-war polemic, headlined by an unforgettable performance from Lew Ayres, lays bare the tragic foolishness at the heart of war.
Tickets & Showtimes
All Quiet on the Western Front Trailers & Photos
Movie Info
Follow a group of idealistic young men as they join the German Army during World War I and are assigned to the Western Front, where their patriotism is destroyed by the harsh realities of combat.
more
Cast
News & Interviews for All Quiet on the Western Front
Critic Reviews for All Quiet on the Western Front
Audience Reviews for All Quiet on the Western Front
A classic anti war film, All Quiet on the Western Front is a masterwork of filmmaking. Over 80 years after its release, the film is still very effective, and ranks among the genres finest works. With stunning performances from its cast, the film occur during the First World War, and it shows us the chaos, and considering the fact that this was made in 1930, it's an impressive feat in filmmaking, as what we have here is a picture that captures the fear and agony of combat, and it's a well made movie for its time, and it still looks great after all these years. What stands out with the film is the superb direction from director Lewis Milestone, who captures every moment on camera and does so in away where you're plunged directly into the action and terror of the war. War films are always tricky to do, a lot of them inaccurate, overdone, and it lacks the effectiveness of capturing War carnage on camera by overdoing IT. However here, since this was made in the early days of cinema, All Quiet on the Western Front delivers a straight to the point story with subtlety and it is an engaging and captivating viewing experience. This film is the definitive WWI picture, with great direction, well done effects and memorable performances, this one gets it right. The film does a fine job at presenting the facts, and with that being said, it's a genre classic that is a must watch for war or history enthusiasts,. The film's message really sets this film apart. With the way that it tackles its subject, All Quiet on the Western Front gives you that anti war message without overdoing anything, and that's what's great about this. This is a movie that is horrifying in the way that shows young men torn apart by the horrors of war, but it does so in a very tasteful way. Remember that the war to end all war ended in 1918, and this picture was made 12 years later, still fresh in people's minds. This is a flawless picture, one that stands among the most powerful genre pictures ever made as well as a defining cinematic accomplishment.
A group of German schoolboys enlists to serve in the Great War.
As vital, disturbing, and powerful now as it was when it was written and filmed, All Quiet on the Western Front is an excellent film about war and both its inhumanity -- the moments when people are turned into monsters and pawns -- and its humanity -- the moments when despite the contexts people attempt to regain their decency. Very few war films are able to conflate so much of war's aspects. The film also serves as a visual representation of much of the poetry that came out of WWI. "Dulce et Decorum Est" by Wilfred Owen and Siegfried Sassoon's poems are reminiscent of this film, or vice versa. I particularly liked the scene in which soldiers, one of them pretending to be the kaiser, debate the necessities of war in a conversation that is wise in its simplicity.
The final scene get a little maudlin; there's a line where a film deserves its sentimentality, I think this film dances around it.
Overall, this is a profoundly effective war film that rivals anything current.
Jim Hunter
Super Reviewer
All Quiet on the Western Front Quotes
Paul Baumer: You still think it's beautiful to die for your country. The first bombardment taught us better. When it comes to dying for country, it's better not to die at all.
Paul Baumer: And our bodies are earth. And our thoughts are clay. And we sleep and eat with death.
Discussion Forum
Discuss All Quiet on the Western Front on our Movie forum!
News & Features