My Brother's Wedding
(1984)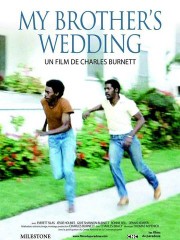 AUDIENCE SCORE
Critic Consensus: No consensus yet.
Tickets & Showtimes
Movie Info
"My Brother's Wedding" is a tragic comedy that takes place in South Central Los Angeles. The story focuses on a young man who hasn't made much of his life as of yet, and at a crucial point in his life, he is unable to make the proper decision, a sober decision, a moral decision. This is a consequence of his not having developed beyond the embryonic stage, socially. He has a distinct romantic notion about life in the ghetto and yet, in spite of his naive sensitivity, he is given the task of being his brother's keeper; he feels rather than sees, and as a consequence his capacity for judging things off in the distance is limited. This brings about circumstances that weave themselves into a set of complexities which Pierce Mundy, the main character, desperately tries to avoid.
more
Cast
News & Interviews for My Brother's Wedding
Critic Reviews for My Brother's Wedding
Audience Reviews for My Brother's Wedding
I watched the director's cut, which is 35 minutes SHORTER than the original version. Refreshing to see a director who understands that sometimes less is more. What Burnett couldn't cut, however, were all the lousy performances. Everett Silas is fine in the lead, but almost everyone else is stiff and terrible. I also thought some of the writing was a bit sloppy. But the situations are set up well, and watching Pierce continually make such bad choices is both frustrating and endearing.
[center][b][img]http://image.allmusic.com/00/adg/cov200/drt600/t641/t64164z9jqv.jpg[/img][/b][/center]

[b]E.T. (1982) - 6.5/10[/b]
Director - Steven Spielberg
Starring - Henry Thomas, Dee Wallace, Drew Barrymore, Robert MacNaughton, Peter Coyote.

Easily one of the most popular and most loved films of all time, [i]E.T. [/i]is a sci-fi/family film about an abandoned alien and the young boy who befriends him. [i]E.T. [/i]is far from a bad film, but I've always thought it was vastly overrated. Spielberg, as great as a director as he is, at times seems to really force his sentiment, and it's never been more evident than in this film. Plus the story (and characters) are paper thin, and some plot turns (the home invasion) just seem silly, even for a fantasy film. That said E.T. is cute enough, I just wouldn't include it among "my" favorite family films.


[b]My Brother's Wedding (1983) - 3.5/10[/b]
Director - Charles Burnett
Starring - Everett Silas, Jessie Holmes, Ronnie Bell, Gaye Shannon-Burnett, Sy Richardson.

Since I really enjoyed Burnett's [i]Killer of Sheep [/i]I decided to check out another one of his films. Well Mr. Burnett pretty much abandoned everything that made that film successful with his followup. [i]The Killer of Sheep [/i]was totally unstructured, pretty much "a day in the life" storytelling, with excellent black and white camera work. [i]My Brother's Wedding [/i]returns to the depressed Watts neighborhoods Burnett is familar with, but he uses a much more conventional plot/storyline. Considering his low budget and inexperienced actors, it just doesn't work. The story had potential, but subpar acting hurts. Also gone is his creative camera work. Using black and white helped create the depressed mood of Killer of Sheep, but his use of color (as crude as his equipment may have been) isn't very good.
Jennifer Allison
Discussion Forum
Discuss My Brother's Wedding on our Movie forum!
News & Features