Chamber of Horrors
(1966)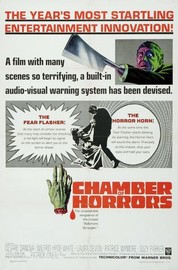 AUDIENCE SCORE
Critic Consensus: No consensus yet.
Tickets & Showtimes
Chamber of Horrors Trailers & Photos
Movie Info
This gory thriller, set in 19th-century Baltimore, begins when a psychopathic killer is forced to amputate his own hand to avoid execution. Soon, armed with a new hook, he sets out for revenge, but a pair of heroic wax-museum curators and their midget henchman are on his tail.
more
Cast
News & Interviews for Chamber of Horrors
Critic Reviews for Chamber of Horrors
There are no critic reviews yet for Chamber of Horrors. Keep checking Rotten Tomatoes for updates!
Audience Reviews for Chamber of Horrors
Bruce Bruce
Super Reviewer
½
Chamber of Horrors definitely isn't as horrific as its title implies. There's not a single drop of blood in the entire film and the only thing even remotely macabre about it is the wax sculptures on display (ALA House of Wax), but they really only serve as a backdrop to the story. An enormous amount of emphasis and screen time is spent dealing with these wax dummies, only to serve no purpose except to recreate someone's untimely end. I can't really say much more than that. Otherwise, I'd be spoiling the film... in a film that spoils itself. Whenever something heinous is about to occur, there is this weird red flash and a siren signaling to the audience that it's about to happen. It's a very William Castle sort of technique that just fails on every level. It was a gimmick cooked up by the producers when it was decided to shoot additional scenes (including a brief one with Tony Curtis) to beef up the running time and release it to theatres instead of on television, as originally planned. It's not a very good movie, but it does have a fair amount of character development that I found intriguing. That would be my only recommendation to watch it really. Another reason to watch the film, for television fans anyway, would be an early appearance by Wayne Rogers, who played Trapper John in the M*A*S*H TV series. The film is also directed by Hy Averback, who was the voice of the loudspeaker in M*A*S*H, so fans of that show should find something fun in that, at least.
Tim Salmons
Super Reviewer
½
When he comes after my head he'll have to risk his own.

In Baltimore a strange wax museum has been formed that tracks notorious serial killers throughout history. A convicted criminal sentenced to hanging escapes by cutting his hand off and jumping off a train. Shortly thereafter a rash of killings spring up all over town. Business picks up for the wax museum as they begin creating new displays in honor of the new serial killer.

"It takes time for a crawling caterpillar to become a true butterfly."

Hy Averback, director of Where the Boys are '84, Venice Medical, She's in the Army Now, The Night Rider, House Calls, and The Love Boat II, delivers Chamber of Horror. The storyline for this picture is very similar to House of Wax mixed with The Tingler. The good and evil characters were interesting and well delivered and the cast delivered solid performances. The cast includes Patrick O'Neal, Suzy Parker, Cesare Danova, and Wilfrid Hybe-White.

"Lovely girl. Where did you find her?"
"In the fog."

This movie recently aired on Turner Classic Movies (TCM) and I loved the idea of a one armed serial killer. The movie was okay with some 60s gimmicky cheese sprinkled in. I did find this film entertaining and definitely worth watching. This is classic 60s horror that fans of the old school Vincent Price pictures may enjoy.

"A taste for sewers is what I call it."

Grade: B-
Kevin Robbins
Discussion Forum
Discuss Chamber of Horrors on our Movie forum!
News & Features