Stolen
(2010)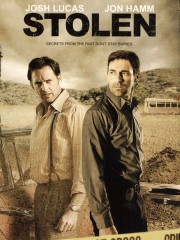 Stolen Trailers & Photos
Movie Info
Mad Men star Jon Hamm headlines this unusual low-budget mystery-thriller, as Detective Tom Adkins, a man haunted relentlessly by the disappearance of his ten-year-old son, Tommy, Jr. No leads immediately turn up in that case, but he does receive an early-morning phone call that draws him to the mangled and mutilated remains of a young boy slain 50 years prior. Tom takes on the case in an attempt to find absolution, and a second tale evolves, set 50 before, involving a man named Matthew Wakefield (Josh Lucas) and his son John. The baffling similarities between the Wakefield case and Tommy Jr.'s mysterious fate push Tom to the brink of sanity and ultimately lead him on a collision course with fate. Gradually, one step at a time, Tom stumbles onto the horrifying truth about what happened to his boy. ~ Nathan Southern, Rovi
more
Watch it now
Cast
News & Interviews for Stolen
Critic Reviews for Stolen
Audience Reviews for Stolen
♥˩ƳИИ ƜѲѲƉƧ♥
Super Reviewer
Dark, grim, and emotionally gripping murder mystery that spans 50 years. From the onset the movie has a grim feel to it, and as it flashes back and forth between 2008 and 1958, you are slowly engrossed in a serial killer mystery. The performances by all are very good. The story is a very sad one, as any movie that revolves around child murders would be. Good movie, leaves you thinking.
½
It is 2008 and Detective Tom Adkins(Jon Hamm) is called to a crime scene at a building site with his wife Barbara(Rhona Mitra) to see if the body is that of their son who disappeared from a diner eight years previously. It turns out that it is not theirs since the body is fifty years old.

It is 1958 and Matthew Wakefield(Josh Lucas) has two days to make a payment on his mortgage or the bank will foreclose on his house. In fact, he does not even have that much time when his wife hangs herself. And then it turns out that his sister Coral(Kali Rocha) can only take in two of his sons, leaving John(Jimmy Bennett) in his care.

"Stolen" might possibly have had a chance at success if it had stayed mostly with solving the 1950's mystery in the present because all we need to know about Matthew is that he is a drifter with a son, along with Jon Hamm nailing the anguish of a grieving parent perfectly. That's not excusing the movie's predictability, rendering it pretty much routine anyway, as this is the kind of movie that is designed to get under the skin of parents by warning them never to turn their backs on their children for a second or else very bad things will happen.(Look, I hate kids, will never have any and frankly don't care.) But blinking is still okay.
Discussion Forum
Discuss Stolen on our Movie forum!
News & Features