The Bounty
(1984)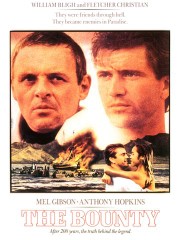 AUDIENCE SCORE
Critic Consensus: Thanks in large part to its cast, and Anthony Hopkins in particular, The Bounty's retelling of the mutiny on the HMS Bounty is an intelligent, engaging adventure saga.
Tickets & Showtimes
The Bounty Trailers & Photos
Movie Info
This fourth film dramatization of the 1789 mutiny aboard the H.M.S. Bounty is based not on the familiar Nordhoff and Hall book, but on Richard Hough's novel Captain Bligh and Mr. Christian. This time, the infamous Captain Bligh (Anthony Hopkins) is as strict a disciplinarian as ever. He is, however, no monster; faced with his crew's increasing laxity after an idyllic visit to Tahiti (the search for breadfruit takes second place to limitless sex with the island girls), Bligh is forced to resort to flogging and other such means to keep his men in line. Mr. Christian (Mel Gibson), formerly Bligh's friend, is of little use to the captain, having fallen in love with a native girl himself. Christian becomes the leader of the mutiny virtually in spite of himself; and when the mutineers try to seek refuge on Tahiti, they find that the local chief wants no part of them, which is why they settle for the nearly uninhabitable Pitcairn.
more
Watch it now
Cast
News & Interviews for The Bounty
Critic Reviews for The Bounty
Audience Reviews for The Bounty
This movie is really good,i thoroughly enjoyed it.
Its interesting and i must say antony hopkins is on top form with brilliant acting from him and the entire cast.
Its a beautifully depicted and well wriitten movie thats worth the watch.
Film Crazy
Super Reviewer
Could have done with less nudity but a good story and its amazing how he survived on that boat with nothing to eat or drink! Doesn't look like Mel Gibson but he was hot so oh well lol!
The Bounty Quotes
Lt. William Bligh: Mr. Christain, what is it?
Fletcher Christian: Oh, it can wait Sir.
Lt. William Bligh: What is is damn you.
Fletcher Christian: The ship is sinking.
Lt. William Bligh: Good.
Fryer: But I protest.
Lt. William Bligh: You protest, do you?
Fryer: I am Master of The Bounty.
Lt. William Bligh: And I am Commander, by law! I am the first. Do you understand? God damn your hide, and now you may dismiss, sir!
Churchill: William, about your decision to go around the Horn.
Lt. William Bligh: William? Not sir? Not captain? William.
Churchill: I don't think the men will have it.
Lt. William Bligh: Oh, the men won't have it. Are they in charge of the Bounty?
Churchill: They might be if you insist.
Lt. William Bligh: Again. Will you repeat that, please?
Churchill: The men might be in charge.
Lt. William Bligh: What are you threatening me with?
Churchill: It's not a threat, it's a warning.
Lt. William Bligh: Well, gentlemen, between ourselves and home are 27,000 sea miles,the Endeavour Straits and the Great Barrier Reef. Now the crew is deeply demoralised, gentlemen, and I must accept, as every captain must accept, the inevitable and theoretical responsibilty for that.The actual and immediate responsibilty, however, I place on you, my fellow officers, who met this crisis with lethargy, impudence and flagrant defiance publicly uttered. And perhaps also for that, I am to blame. I counted on a strength of character which you do not possess. However, the cure for our predicament is discipline. And I shall apply it with an even hand, of course, but most where it is most required. Yes, well that will be all. Thank you. You may leave now.
Discussion Forum
Discuss The Bounty on our Movie forum!
News & Features