Brian's Song
(1970)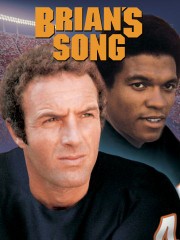 Brian's Song Trailers & Photos
Movie Info
One of the best known and most enthusiastically reviewed made for television films of the 1970's, this drama was based on the true story of football greats Gale Sayers and Brian Piccolo. Sayers (Billy Dee Williams) and Piccolo (James Caan) both joined the Chicago Bears the same year, and while it was obvious from the start Sayers had the talent and drive to be a great player, Piccolo seemed destined to be an also-ran on the team. However, Sayers and Piccolo struck up a friendship which brought out the best in both players, and coach George Halas (Jack Warden) chose them for a special assignment -- they became the first interracial roommates in the history of the NFL. When Sayers suffered a knee injury that threatened to end his career, Piccolo took it upon himself to help his friend through rehabilitation so he could rejoin the team. But when Piccolo began having heath problems, it was a problem too great for Sayers to handle -- his close friend had developed cancer. Adapted from Sayers' autobiography I Am Third, Brian's Song also features Chicago Bears legend Dick Butkus as himself.
more
Sony Pictures Home Entertainment
Cast
News & Interviews for Brian's Song
Critic Reviews for Brian's Song
Audience Reviews for Brian's Song
Randy Tippy
Super Reviewer
This is one of the best films I've ever seen -- I lived in Aurora, Illinois when Brian died! I loved him as a Bear, and I was terribly saddened by his death -- I remember all that Gayle Sayers did for him, but I didn't know this much -- A Wonderful film --
Tom Ericksen
Super Reviewer
Oh, How Melo-Drama was enjoyable in the 70's! Now a days, You can't even last a minute with a movie like that. In Brian's song Case, I lasted the whole film, enjoying moderate parts of it. Also, no matter How much, i love football, i do not shed tears, only Old Yeller, can get that close.
Brian's Song Quotes
Brian Piccolo: So, Concannon calls this trap play, and it's just beautiful... 43 yards, wasn't it 43? Ah. So, Halas sees he's tired, and sends me in, so I go in, he comes out. Concannon then figures he's gonna get REALLY foxy... you know, Concannon is... So, he says, 'Um, same play. VERY SAME PLAY.' Now, a trap play is also called, a SUCKER play, because it makes the defense look REAL bad when it works. Now, defenses DO NOT like to look real bad, see... it makes 'em kinda surly... So, anyway, all the linemen go this way, and it's like I am lookin' at a team portrait of the Los Angeles Rams! 'Hey, Deacon! Merlin! How's the family, Rosey?'
Brian Piccolo: Well, on uh, Fake Draw Screen Right I uh, pick up the linebacker if he's comin, 'less of course it's Butkus, then I simply notify the quarterback to send for a preacher.
Brian Piccolo: I said thank you.
Gale Sayers: I know.
Brian Piccolo: Well, usually when someone says thank you you're supposed to say you're welcome or How's Your mother?
Gale Sayers: How's your mother?
Brian Piccolo: She's doin' fine, thanks for asking.
Speaker: Ernest Hemingway once said 'Every true story ends in death.' Well, this is a true story.
Discussion Forum
Discuss Brian's Song on our Movie forum!
News & Features