Bye Bye Birdie
(1963)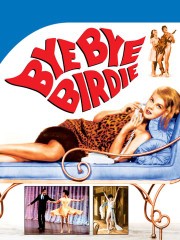 Tickets & Showtimes
Bye Bye Birdie Trailers & Photos
Movie Info
When a major rock`n`roll star arrives in a small Iowa town for a contest, a local songwriter tires to get him to record one of his songs.
more
Cast
News & Interviews for Bye Bye Birdie
Critic Reviews for Bye Bye Birdie
Audience Reviews for Bye Bye Birdie
½
So out-of-date it's hard to relate to anymore, but the ridiculous excess still provides many opportunities for laughter. Much of the music is unremarkable; nevertheless there are a few classic gems. For fans of Paul Lynde, he really steals the show. It's just a fun (but dated) family-friendly vege-out film.
Bye Bye Birdie is a tuneful, engaging, perky, mixed bag of charm and cheesy retro fun. It is not a classic movie musical, its humor is corny, the filming is pedestrian, the cutting edge animation and green screen effects look horribly dated and the story is a paint by numbers dull plot with very low stakes. The 100% rating on RT is way high for my money, but this is still a pleasant wallow in nostalgia and innocence

Birdie captures a moment in pop culture that I lived through, when the Ed Sullivan show was the most watched entertainment event of the week, watched by the whole family every Sunday night. I mourn that there are not cultural experiences shared by multiple generations. Now everyone goes off to watch their own stuff on cable and computer and there are no shared experiences in pop culture -except maybe American Idol type competitions. This was also a time when Elvis Presley's hips were threat to America's purity. That really does seem like the stone age.

Bye Bye Birdie's assets: 1. A mostly sparkling cast, with the luminous and sexy Anne-Margaret and high octane charm of Dick Van Dyke doing what he does best. As Dad, a brilliantly cast supporting player Paul Lynde reprising his Broadway role, which he totally owns. He knocks each comedy line out of the park.

2. Wall to wall tuneful, witty songs,by Strouse and Adams that are the really the point of this enterprise. These include 'Put on a Happy Face', and 'Kids', songs that are still remembered. Still, the composers don't get rock and roll, and when they try to write Elvis style tunes they utterly miss the mark, but it doesn't matter. The resulting cheese is still edible.

Try to fast forward through the horrible over the top Jewish mother character and subplot played by normally excellent actress Maureen Stapleton and don't get too caught up in the details, the story is full of holes. That said, this is good fun, and you really can watch it with the whole family, if your kids are open to goofy retro cheese that kind of overstays its welcome in two plus hours.
Bye Bye Birdie Quotes
Discussion Forum
Discuss Bye Bye Birdie on our Movie forum!
News & Features