A Christmas Story
(1983)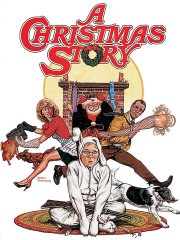 A Christmas Story Trailers & Photos
Movie Info
In the 1940's, in the town of Hammond, 9-year-old Ralphie wants one thing for Christmas -- an official Red Ryder BB rifle. When he asks his mother for the BB gun for Christmas, she says, "No, you'll shoot your eye out". When he writes an essay about it at school his teacher gives him a C+ with a note saying "You'll shoot your eye out." Next he asks Santa for the gun, Santa's response is familiar, he says, "You'll shoot your eye out, kid." Ralph fears that he'll never get the BB gun for Christmas. But there may be a surprise in store for him.
more
Cast
News & Interviews for A Christmas Story
Critic Reviews for A Christmas Story
Audience Reviews for A Christmas Story
Little Ralphie really wants a Red Ryder B. B. Gun for Christmas, and not even the objections of authority figures will dampen his quest to get it.

Good Lord, I love this movie. It seems like a funny, charming, and quirky little film, and it is, but it's also rather dark, twisted, and mean spirited. Somehow it all manages to work out though, and it somehow finds a balance.

The absurdity of the situations,and Jean Shepherd's excellent writing and narration are some definite highlights. His way of describing stuff and telling a good story is unmatched. The child actors are good, which is surprising since most are usually annoying and ridiculous. The adults are also pretty good, especially Darren McGavin, who just hams it up without overdoing it.

This is a strange Christmas film, but it's hard not to like. I think we've all had that one gift we always wanted, and hoped like Hell we'd get it. Along the way, this film also has some good lessons about life, childhood, growing up, and the ridiculousness both of life in general, and the holiday season.

I never get tired of watching this, and hope I never do.
Chris Weber
Super Reviewer
I tuned in halfway during TBS's A Christmas Story marathon. Everything was five-star gold. Watching it three more times kinda wore on me.
A Christmas Story Quotes
Adult Ralphie: He had yellow eyes! So help me God yellow eyes!
The Old Man: In the heat of battle my father wove a tapestry of obscenity that, as far as we know, is still hanging in space over Lake Michigan.
Ralphie: Randy lay there like a slug. It was his only defense.
Discussion Forum
Discuss A Christmas Story on our Movie forum!
News & Features