The Enforcer
(1951)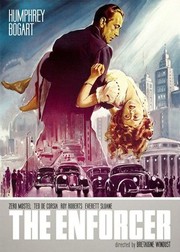 The Enforcer Trailers & Photos
Movie Info
Humphrey Bogart plays Martin Ferguson, a prosecutor about to put Albert Mendoza (Everett Sloane), the head of a murder-for-hire ring, on trial. But the night before the trial, his key witness, Joe Rico (Ted de Corsia), dies in a fall out of the window of the room in which he's been guarded, part of an abortive escape attempt to keep from testifying. His case in shambles, Ferguson and detective Captain Nelson (Roy Roberts) try to piece the entire four-year investigation back together from square one, trying to find something that might give them another way to prosecute Mendoza. The main body of the movie is told in flashback, starting when a small-time hood named Duke Malloy (Michael Tolan, then billed as Lawrence Tolan) walks into a police station to turn himself in for killing his girlfriend -- and says that someone made him kill her. He babbles to the bewildered detectives about "hits" and "contracts" and men nicknamed Philadelphia, Big Babe, and Smiley. The body isn't found, but they arrest Malloy, who hangs himself in his cell. That dead end leads, almost by accident, to Philadelphia Tom Zaca (Jack Lambert), an asylum inmate who has to be put under sedation at the mention of Malloy's name. They find another suspect's body burning in his building's incinerator, and then Big Babe Lazick (Zero Mostel), a two-bit hood, hiding in a church in mortal fear of his life. He begins weaving a tale of a murder-by-contract ring and its head operator, Joe Rico, of a murder contract that Duke Malloy never filled on a girl who had to change her name, of mistaken identity and the murder of the girl's cab-driver father, and the connection between that and a murder that they both witnessed eight years earlier. In the midst of all of those interlocking stories (spread across ten years), there's something Ferguson missed -- when he had Rico to testify -- that he has to sort out from the reams of testimony and evidence, and he has to figure it out before Mendoza does, or lose the last witness he has. ~ Bruce Eder, Rovi
more
Republic Pictures Home Video
Watch it now
Cast
News & Interviews for The Enforcer
Critic Reviews for The Enforcer
Audience Reviews for The Enforcer
½
When a hoodlum staggers into a police station and confesses to the murder of his girlfriend, it sets in motion a chain of events which leads to D.A. Humphrey Bogart following a series of clues and bodies uncovering a group of ruthless contract killers. All the elements of film noir are in place, including gritty violence in darkened streets and tough, uncompromising characters. The structure is a little episodic, most of the story being told in flashback, and it would've benefited from giving more screen time to Bogie himself, but it's still a tautly directed and well shot minor classic of the detective genre.
½
A standard Film Noir. It has the classic mood and feel. This one tries to play as reenactment of true events through flashbacks. It plays to the stereotypes that we would see for example in Dick Tracy. It is one step up from the Dick Tracy films, though not by much. Bogart is in the film only half the time as it takes turns following the narrative from the perspective of law enforcement officials and the criminal underground. The split attention prevents it from gaining any depth to the narrative. Bogart plays an assistant district attorney on the eve of sending a criminal kingpin to jail at a court trial. His key witness gets the jitters and dies senselessly as he tries to escape from police protection. Bogart faces the possibility of letting the criminal Al Mendoza free, but decides to revisit the evidence to find the needle in the haystack that he needs. The film plays very strict and standard with little substance and sub par acting from the underground characters. The acting from the underground characters comes off as stiff and forced. If you enjoy film noirs and can put up with hammy acting, this can still be a fun picture to watch. As a lover of film noir, I do consider this an enjoyable mindless viewing, but it might not be the case for many.
gerardo rodriguez
The Enforcer Quotes
Big Babe Lazich: [Big Babe Lazich has just been invited to join Ricos gang. While he is waiting, he notices that Rico is always on the phone] Who calls him on the phone?
Philadelphia Tom Zaca: If youre a good swimmer, you can ask the guy who found out. Hes at the bottom of the river. [he grins]
Martin Ferguson: Cmon, Miss Vetto. I want to see the look on Mendozas face when he looks into those big blue eyes.
Discussion Forum
Discuss The Enforcer on our Movie forum!
News & Features