Escape from New York
(1981)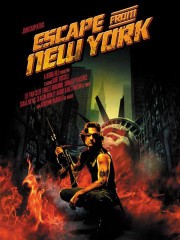 TOMATOMETER
AUDIENCE SCORE
Critic Consensus: Featuring an atmospherically grimy futuristic metropolis, Escape from New York is a strange, entertaining jumble of thrilling action and oddball weirdness.
Escape from New York Trailers & Photos
Movie Info
In this grim, cynical science fiction film, the island of New York City has been transformed into a gigantic prison state. When Air Force One crashes on the island, mercenary Snake Plissken is sent on a mission to rescue the President from the island's ruling felons -- or die trying.
more
Cast
News & Interviews for Escape from New York
Critic Reviews for Escape from New York
Audience Reviews for Escape from New York
John Carpenter makes action-adventure sci-fi films that use small budget resources to create fantastical and unparallel worlds. In this dystopian future (which isn't overtly stated, but it must be seeing as Manhattan is a prison island) Snake Plissken, a merchant of fortune finally caught by the US government, must save the PUSA from the wrath of exiled prisoners. While this setting doesn't make much sense, and a lot about our characters isn't revealed to us throughout the course of the film, we as the audience only need to know what Snake plans to do next, and how he will escape the island. Isaac Hayes as the villain was perfect casting, Adrienne Barbeau plays a steely and hard headed woman who protects her man, and Kurt Russell gives a performance that is over the top in the extreme, and yet he still comes off as the underdog. The film makes a case for empathy from our society, and a denouncement of the prison system, but does so while Ernest Borgnine throws Molotov cocktails, and Kurt Russell gets grabbed through the floor by insane subway marauders. It's a mixed bag of the best in weird and schlocky but is presented in the best possible way, something Carpenter has replicated in all his films.
½
This is John Carpenter's low-budget cult classic that introduced the world to one of the coolest anti-heroes ever: Snake Plissken.

Set in the then near distant future of 1997, the world has become a messy dystopia, and Manhattan island has become an isolated prison. When Air Force One crashes there, the President (and a valuable audio tape) are taken hostage by a ruthless gang leader, and the decision is made to have the rescue mission be conducted by Snake Plissken- a war hero turned criminal who is promised a full pardon if he can complete the task. To ensure he'll cooperate, Snake is implanted with an explosive device that will go off if not deactivated within 24 hours.

What follows is a tense jaunt through a desolate wasteland populated by colorful character played by the likes of Ernest Borgnine, Isaac Hayes, Harry Dean Stanton, Adrienne Barbeau, and Donald Pleasence. As Snake, Kurt Russell absolutely dominates, and this is easily one of his best and most iconic roles.

As a Missourian, it makes me proud to see St. Louis used as a stand in for Manhattan a majority of the time. The cinematography and set design are great, and you really believe that this place has become a really dangerous world. The music is typical Carpenter, but fun, and the set pieces are decently executed.

The film has aged a bit better than I figured, and, even though it's not glossy, it has a lot of charm due to the creativity employed to counteract the low-budget. All in all this is a great genre movie, and easily one of Carpenter's best. Strongly recommended.
Chris Weber
Super Reviewer
Escape from New York Quotes
Cabbie: [Snake runs into Cabbie's taxi cab while being chased by the Crazies] Bad neighborhood, Snake! You don't want to be walking from the Bowery to 42nd Street at night. I've been driving a cab here for 30 years and I'm telling you: you don't walk around here at night! Yes, sir! Those Crazies'll kill you and strip you in ten seconds flat! Usually I'm not down around here myself, but I wanted to catch that show. That stuff is like gold around here, you know. [Cabbie casually lights a Molotov cocktail and throws it at approaching Crazies, which explodes in front of them, stopping them... and Cabbie speeds away with Snake in his taxi]
Bob Hauk: There was an accident. About an hour ago, a small jet went down inside New York City. The President was on board.
Snake Plissken: The president of what?
President of the United States: [fires machine gun at the Duke] Ayy! Number Onnee! You're the Duke! You're the Duke! [stops firing] You're the... Duke. [quietly] You're... A-number one.
The Duke of New York: They sent in their best man, and when we roll across the 59th Street bridge tomorrow, on our way to freedom, we're going to have their best man leading the way - from the neck up! [cheering erupts] On the hood of my car!
Discussion Forum
Discuss Escape from New York on our Movie forum!
News & Features