Fatal Attraction
(1987)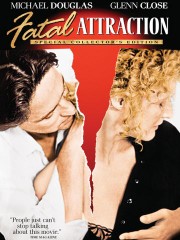 TOMATOMETER
AUDIENCE SCORE
Critic Consensus: A potboiler in the finest sense, Fatal Attraction is a sultry, juicy thriller that's hard to look away from once it gets going.
Fatal Attraction Trailers & Photos
Movie Info
"Fatal attraction" has become a household term for love turned to murderous obsession, thanks to the success of Adrian Lyne's 1987 movie. Dan (Michael Douglas) is a family man whose one-night affair with Alex (Glenn Close) turns into a nightmare when she insists on continuing the relationship, claiming to be carrying his baby. Alex systematically terrorizes Dan, even temporarily kidnapping his daughter, in her attempts to win back his affection. Douglas' besieged family man guiltily tries to preserve his marriage and family from the consequences of his own indiscretion. Close's performance as the love-struck psycho-siren remains her signature role: She conveys the buried feminist message of the film in her challenge to Dan to take responsibility for his sexual behavior. Though many critics acknowlegded the film's striking similarities to Clint Eastwood's 1971 film Play Misty for Me, Fatal Attraction spawned numerous other movies about middle-class families besieged by a lone psychotic intent on infiltrating and destroying the fabric of the family unit, including The Stepfather (1987), Pacific Heights (1990), The Hand That Rocks the Cradle (1992), and Fear (1996). ~ Laura Abraham, Rovi
more
Cast
News & Interviews for Fatal Attraction
Critic Reviews for Fatal Attraction
Audience Reviews for Fatal Attraction
½
The only thing that ruins this personally is that I just couldn't buy Glenn Close as some hot woman. (Not that Michael Douglas is a catch himself quite honestly, but he had an attractive wife at home, and I couldn't see how he would be tempted by her). I nearly choked at the suggestion that Glenn's character was 36. Hell that's rough looking for 36! Not being horrible, Glenn is a fantastic actress and she plays this role well, but physically all wrong for it. I would have bought someone like (80's) Ellen Barkin here.
Once I got over that stretch of the imagination, this was a good movie, great acting from all the cast. Very well done and thought provoking. I have to admit, I found myself pitying both the women more than him (bought it all on himself as far as I am concerned). Glenn's character had some valid points about not going away and being ignored. She did lose me at the bunny boiling, though, cruelty to animals, not on. It did seem to me that all the rage got put onto her and "Michael" pretty much got away with it. (Not saying she wasn't tapped, but she clearly needed help, not a married man messing with her head for his own selfish disposal). I can't imagine why his wife took him back. Yes, they went through some traumatic experiences towards the end - car accident, disappearance of daughter, the bathroom scene - but it seems conveniently forgotten that all these events were caused by his infidelity. How could you trust him ever again?!
Good movie, but have to question the mindset of all involved!
A classic thriller that set the standards on the stalker, obsessed ex, woman scorned after revenge genre. Quite raunchy for the time it was made. The tension really mounts as Glenn Close's character goes to increasing desperate measures to keep in touch with and get her man. One scene produced a term of phrase that is still used wildly even today for an obsessed ex.
Fatal Attraction Quotes
Alex Forrest: Why is it that all the interesting guys are married?
Dan Gallagher: Well, maybe that's why you find them interesting because you can't have them.
Alex Forrest: I won't be ignored, Dan!
Discussion Forum
Discuss Fatal Attraction on our Movie forum!
News & Features