High Hopes
(1988)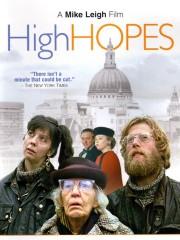 High Hopes Trailers & Photos
Movie Info
In this early film, award-winning director Mike Leigh uses a loose, open-ended narrative structure to unsettle cinematic expectations and create a truly inventive and very honest film. High Hopes opens with the arrival of Wayne, a small-town lad in his twenties, in the London metropolis. Completely lost in the hustle and bustle, Wayne asks for directions from a cyclist named Cyril. Unable to assist him, Cyril brings Wayne to his house to examine a map and meet his long-time girlfriend, Shirley, also a working-class intellectual. After the opening credits roll, Wayne, equipped with directions, leaves and turns to wave goodbye to the helpful couple. Completely unexpectedly the camera stays with Cyril and Shirley, Wayne exits the film as a minor character, and the viewer's notions of what to expect from a narrative drama are completely shaken. Throughout, High Hopes' seemingly innocuous events turn out to be crucial incidents in the characters' lives. After this abrupt change of direction, Cyril and Shirley pay a visit to Cyril's aging mother, Mrs. Bender, and meet her neighbors, the vapid Boothe-Braines. In a parallel story, we meet Cyril's high-strung sister, Valerie, who perpetually neglects her mother as she herself is neglected by her wandering husband, Martin. The remainder of the film explores the dull, unfulfilled lives of the middle class and the wasteful and purposeless lives of the upper-middle class (the Boothe-Braines), and Cyril and Shirley's struggle to decide if they should bring a child into this mess of a world. As with his other films, Leigh did not work from a script in filming High Hopes, relying instead on the actors' improvisations which contribute to the lyrical, open-ended quality of the narrative.
more
| | |
| --- | --- |
| Rating: | PG |
| Genre: | Comedy |
| Directed By: | Mike Leigh |
| Written By: | Mike Leigh |
| In Theaters: | Sep 1, 1988 Wide |
| On DVD: | May 12, 2009 |
| Runtime: | |
Cast
News & Interviews for High Hopes
Critic Reviews for High Hopes
Audience Reviews for High Hopes
Daniel Mumby
Super Reviewer
½
This was excellent. Managed to make me laugh, and depress me all at the same time. It really is quite thought provoking, particularly with the old lady, you kind of relate to her and how she is feeling while all this ridiculousness is going on around her. This is a typical Mike Leigh film with over the top characters who somehow are depressingly real.
½
Slice-of-life look at a sweet working-class couple in London, Shirley and Cyril, his mother, who's aging quickly and becoming forgetful, mum's ghastly upper-middle-class neighbors, and Cyril's pretentious sister and philandering husband. Shirley wants a baby, but Cyril, who reads Marx and wants the world to be perfect, is reluctant. Cyril's mum locks herself out and must ask her snooty neighbors for help. Then Cyril's sister Valerie stages a surprise party for mum's 70th birthday, a disaster from start to finish. Shirley holds things together, and she and Cyril may put aside her Dutch cap after all.

An underated Mike Leigh film made in the year I was born in and during the Thatcher years. I loved the satre in this film, which is stil true even to this day. Perhaps the uperclass couple aren't around so much today, and aren't next door to a working class woman.

Once again Leigh uses some brilliant camera work, soundtrack to create a brilliant portrait of Thatcher's Britain. Indeed, Leigh never gives us anything to cling to. Nor does he want to present hope that things will change for the better. Take the central couple Shirley and Cyril (Philip Davies and Ruth Sheen). Why are they living like squatters in their own tiny flat? Why can they not buy a proper bed (they sleep on the floor) or look for somewhere better - after all they both work? Apart from the question of a child (she wants - he doesn't) they both seem happy to live in squalor. In Shirley we at least have someone who cares for other people.

There is comic relief, particularly in the character of Cyril's sister Valerie: an embodiment of social-climbing at its most deranged. Valerie's excessive outbursts are undoubtedly overplayed as she flips at her Mother's birthday party; nevertheless, it's funny to watch. Otherwise, High Hopes remains quite firmly in the reality of Thatcherite Britain.

Overall I highly recomend that everyone watched this. Not just because it's a Mike Leigh film but because it it depicts so realitically social satire at the most uncomfotable it can be. It also depicts Thatcher's Britain so well.

HIGHLY RECOMENDED
Discussion Forum
Discuss High Hopes on our Movie forum!
News & Features