Invasion U.S.A.
(1985)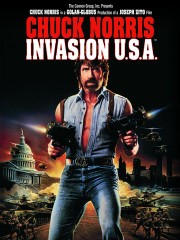 Movie Info
This red-baiting action film stars Chuck Norris as Matt Hunter, a retired CIA agent who lives in the Florida Everglades. A communist invasion of Miami brings Hunter out of retirement to fight the encroaching hordes led by everyone's favorite low-budget bad guy, Richard Lynch. The film is extremely jingoistic, presenting the evil communists staging an invasion on Christmas, demolishing a church, and attempting to blow up a school bus full of children. From the same school of thinking which produced Rambo and Red Dawn, this film at least features some convincing gore by makeup wizard Tom Savini (Friday the 13th), working on his third gig for director Joseph Zito. Zito and Savini returned with Red Scorpion.
more
Cast
News & Interviews for Invasion U.S.A.
Critic Reviews for Invasion U.S.A.
Audience Reviews for Invasion U.S.A.
Hard-R, over-the-top, hilariously absurd action movie with a political paranoia bent. This film gives us a this-could-happen doomsday scenario from the era of the Cold War. Maniacal Communist terrorists, led by poker-paced psychopath Rostov (Richard Lynch) land on American soil, just annihilating everybody in their path. But there is one man, and one man alone, who can save the day..."retired" secret agent Matt Hunter (Chuck Norris).

Chuck gives one of his more stone-faced portrayals, but the character himself is one of his more sullen and ruthless. I'll say that much - these two adversaries deserve each other, although the final confrontation is a long time coming.

I have to give credit where credit is due: the film-makers, led by director Joseph Zito, let us know up front we're in for a heck of a ride. They gleefully toss credibility out the window, and, just for good measure, dispense with any level of political correctness. The movie is rough, tough, and rousing (although it takes about half the film for things to really kick into gear), aided in no small part by a stirring music score by the talented Jay Chattaway.

Sequences ranging from funny to just plain insane involve a) the messy dispatch of a sleazy drug dealer (Billy Drago) and a hooker, b) a loud and noisy assault on a suburban neighborhood, and c) a major shootout in a shopping mall. This film truly throws in everything (including the kitchen sink) for the sake of an entertaining show.

Co-starring Melissa Prophet (whose gutsy, obnoxious, pushy reporter is more of an annoyance than anything else), Alexander Zale, Alex Colon, Eddie Jones, and Dehl Berti. Co-written by Chuck himself and James Bruner, based on a story by Bruner and Chuck's brother (and frequent collaborator) Aaron.

My final parting words are just this: of the assembly line of Cannon Films action pictures and thrillers to come out of the 1980's, this has to rank up there as one of the most potent guilty pleasures that they made. Period.
David Ladd
Super Reviewer
Three cheers for Norris by protecting USA and make wage war upon the army of terrorist mercenaries.
Dean McKenna
Super Reviewer
Invasion U.S.A. Quotes
Matt Hunter: Nikko was easy. Now it's your turn. One night you're going to close your eyes. And when they open... I'll be there. It'll be time to die.
Matt Hunter: It's timeeeeeeee.
Matt Hunter: Tell me something John, what are you going to do when the social security people find out you've been moonlighting?
John Eagle: Ain't found out about my air boat business. Been doing it for forty years.
Matt Hunter: That's probably because you haven't made a profit in the last thirty-nine.
Matt Hunter: If you come back in here, I am gonna hit you with so many rights you are going to beg for a left.
Discussion Forum
Discuss Invasion U.S.A. on our Movie forum!
News & Features