It
(1927)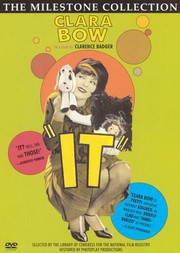 It Trailers & Photos
Movie Info
Contrary to popular belief, Clara Bow was already Paramount's biggest box-office draw when she starred in this delightful rags-to-riches comedy. But It, from the fertile mind of bizarre best-selling author Elinor Glyn, remains perhaps the quintessential Bow picture. Not that the story of a poor shopgirl falling for her rich employer was anything new (by 1927, Bow could play that role in her sleep), but It came complete with one of the best publicity campaigns in Hollywood history. Glyn herself publicly pointed to Bow as the personification of It, "that quality possessed by some which draws all others with its magnetic force." Paramount made sure that Glyn's lofty description of the word sunk in and even convinced the author to explain It in the film to leading man Antonio Moreno (who, according to Glyn, simply oozed It as well). The lightweight comedy behind all this hoopla centered on little Betty Lou Spence, a vivacious salesgirl invited to dinner at the Ritz by foppish wastrel and self-described "old fruit" "Monty" Montgomery (William Austin in one of those roles later personified by Edward Everett Horton). Betty is not paying attention to her dinner companion, however, but is ogling department store heir Cyrus Waltham (Moreno). He notices her too, and takes the salesgirl on a whirlwind tour of Coney Island. But when Betty is mistakenly assumed to be the unmarried mother of an infant (actually her roommate Molly's), stern Cyrus no longer sees her as proper marriage material. Betty, of course, gets her man in the end and Waltham's snooty girlfriend ("other woman" specialist Jacqueline Gadsden) ends up in the drink. Delivering all the vivacious punch expected of a Bow comedy, It takes time out for a couple of rather poignant scenes. With the hindsight that Brooklyn's own Bow was never fully accepted by Hollywood society despite her stardom, it is touching to watch Betty being ostracized at the snobbish Ritz; and Bow is never more affecting than when she realizes that Moreno is offering diamonds and pearls instead of marriage. Priscilla Bonner, as Bow's drab, single-mother roommate, adds a touch of realism to her brief role, enviously observing Betty's frivolity. If It only added to Bow's brilliant success, the film did little for the intelligent Bonner. To the end of her life, Bonner maintained that accepting featured billing in It lost her any chance of true stardom. A very young Gary Cooper, has a bit as a reporter and director Josef Von Sternberg reputedly took over for Clarence Badger during a brief illness. Despite its rather trite Cinderella plot, It magnificently demonstrates why Bow's guileless flapper came to define an entire decade. It is heartbreaking to realize that her decline had already set in, and Bow's very public troubles and eventual career destruction were lurking right around the corner!
more
Rating:
Unrated
Genre:

Drama

,

Romance

,

Classics

,

Comedy

Directed By:

Clarence Badger

,

Josef von Sternberg

,

Clarence G. Badger

Written By:
Hope Loring, Louis D. Lighton, Frederica Maas, Elinor Glyn
In Theaters:
Feb 15, 1927 Wide
On DVD:
Feb 20, 2001
Runtime:
Cast
News & Interviews for It
Critic Reviews for It
Audience Reviews for It
Elinor Glyn, writer of risque romantic fiction in the early twentieth century, adapted her own story, appears as herself at The Ritz, and produced this picture. "It" is not just sex appeal. It is hard to define. One title card in this flick says It is, "self-confidence and indifference as to whether you are pleasing or not." The soundtrack is bouncy jazz age fun. There are quite a few title cards providing dialog, but they are brief and full of amusing figures of speech from the '20s. Clara Bow is Betty Lou, a girl of the era who is bursting with energy. She becomes infatuated with her department store boss Cyrus Waltham, played by Antonio Moreno. His bug-eyed nervous friend Monty (Austin) has been reading about "It" and decides Betty has It. Betty pretends to date Monty to get closer to Mr. Waltham, but it takes him awhile to notice her as he is attached to snooty blonde Adela (Gadsden). Eventually Betty and Cyrus have a date at the amusement park, which was a treat to observe. Complications arise when Betty tries to help her single mother roommate by preventing social workers from taking the baby. Monty is fooled and blabs to Cyrus that Betty is an unwed mother. On a yachting trip she toys with Cyrus for treating her like a bought woman. She pretends to be French. The picture quality looks good and there are lots of laughs. Later this sort of storyline would be recycled ad infinitum, however it is nice to see this early example truly from the female perspective with the fascinating Clara Bow as the star.
It (Clarence Badger, 1927)

The term "It Girl" has become a cultural artifact; you say it now and pretty much everyone in America knows what you're talking about. However, Clarence Badger's 1927 silent film It, which coined the term, has faded into obscurity. I got a chance to watch it recently and, to be kind, I understand why. Which is not to say it's a bad film in any way, but it's quite generic.

The plot is simple as can be: Betty Lou (the ravishing Clara Bow), the "It Girl" of the title, sets her sights on Cyrus Waltham (The Searchers' Antonio Moreno), the handsome, rich son of the owner of the department store where she works. Yep, that's it, no pun intended; she spends an hour and twelve minutes trying to get her man. (And since it's a comedy, you know how that's gonna turn out, right?) Needless to say, if you're a Clara Bow fan, it's worth watching because you get to see her do her thing. And while I'm more of a Lillian Gish guy, you gotta admit, Clara Bow is hands down one of the sexiest women ever to appear on film. This isn't seventy-two minutes you're going to regret spending-though you'll probably have forgotten pretty much everything about it except Ms. Bow after a couple of weeks. ***
Discussion Forum
Discuss It on our Movie forum!
News & Features