The Magnificent Seven
(1960)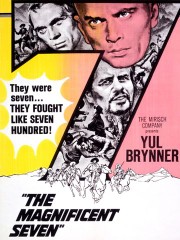 The Magnificent Seven Trailers & Photos
Movie Info
A Mexican village is being terrorized by the bandit Calvera (Eli Wallach) and his gun blazing goons. Seven American mercenaries are hired to protect the village. The group trains the townsfolk in gunplay as a trap is set for Calvera. The bandits suffer casualties after a raid, but they regroup to capture the seven gunmen. Yul Brenner, Steve McQueen, Charles Bronson, Robert Vaughn, Horst Buchholz, James Coburn and Brad Dexter star as the seven guns who must escape wrath of their captor Calvera. The story is taken from the Japanese film "Seven Samurai" which served as a blueprint for this near classic Western saga.
more
Cast
News & Interviews for The Magnificent Seven
Critic Reviews for The Magnificent Seven
Audience Reviews for The Magnificent Seven
An entertaining Western remake of Kurosawa's samurai classic and, like that film, more concerned with developing its characters and letting them grown on us instead of just focusing on the battle, while the great cast and Bernstein's score make it epic and unforgettable.
Based on a story by Akira Kurosawa, starring Yul Brinner, Steve McQueen, Charles Bronson, James Coburn, Robert Vaughn and Eli Wallach, directed by John (The Gunfight At The OK Corral/The Great Escape) Sturges and accompanied by one of the best musical scores ever written, and you have the ingredients for possibly the perfect old school western. Poor old Horst Buchholz didn't stand much of a chance up against an ensemble cast of this quality, but he makes a decent fist of a character who is essentially an amalgam of two characters from Seven Samurai, which makes way for Vaughn's gunslinger who has lost his nerve and slots seamlessly into the action. It does take a more popular culture slant on the original's more arthouse sensibilities, but it works perfectly. Brinner and McQueen make a brilliant double act and it even adds a more upbeat ending without failing to retain the spirit of the source material. One of the very few examples of a remake that is almost as worthwhile as the original.
The Magnificent Seven Quotes
Calvera: Generosity... that was my first mistake. I leave these people a little bit extra, and then they hire these men to make trouble. It shows you, sooner or later, you must answer for every good deed.
Chris: Only the farmers won. We lost. We always lose.
Vin: Fella I once knew in El Paso, one day he took all his clothes off and jumped in a mess of cactus. I asked him the same question, why? He said it seemed to be a good idea at the time.
Vin: It seemed like a good idea at the time. So far so good.
Discussion Forum
Discuss The Magnificent Seven on our Movie forum!
News & Features