The Manhattan Project
(1986)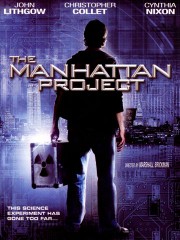 The Manhattan Project Trailers & Photos
Movie Info
Everyone knows that teenagers are smarter than adults, and if given a chance the kids could save the world -- if they don't blow it to bits first. The Manhattan Project tells of how 16-year-old Paul Stephens (Christopher Collet) tries to alert his community to the dangers of nuclear energy. John Mathewson (John Lithgow), a doctor in a pharmaceutical research plant wherein covert plutonium experiments are taking place, is the boyfriend of Paul's mom, Elizabeth (Jill Eikenberry). While Mathewson is romantically occupied, Paul and his girl, Jenny Anderman (Cynthia Nixon), steal the plutonium and construct their own atomic bomb. They do this, of course, as a warning to foolhardy grown-ups -- none more foolhardy than the folks who put up good money to make this film. The Manhattan Project was directed by longtime Woody Allen collaborator Marshall Brickman, whose expert sense of comic timing obscures the thickheaded "message" of this picture.
more
Watch it now
Cast
News & Interviews for The Manhattan Project
Critic Reviews for The Manhattan Project
Audience Reviews for The Manhattan Project
David Ladd
Super Reviewer
Elizabeth: Paul, did you build an atomic bomb? 
Paul: Only a little one. 

The Manhattan Project is a fun movie; a completely ridiculous and unrealistic one, but fun nevertheless. The story is about a high school student, Paul, who is a science genius. When he is invited by his mothers new male interest to a laboratory, he goes excitedly. When he gets there, he notices thing that make it seem like they are building atomic bombs there. So he comes back another night, breaks into the government lab, steals some plutonium and then builds an atomic bomb. Yeah, I said it was unrealistic. 

There's nothing here that is too fantastic. The performances aren't the greatest and the story obviously has it's share of problems. With that said, I was entertained throughout, so I would give it a mild recommendation, but there is something about the movie that does really annoy me. That would be that the hero of the movie Paul puts millions of people's lives in jeopardy and is still considered the hero. I don't want to give the ending away, but it really sort of pissed me off to say the least. The ending makes an already completely unrealistic movie all the more, unrealistic.

It may sound like I really hate this movie and I guess I really do dislike the idea of it, but like I said before it was entertaining. In the end thats all I wanted this movie to be. It didn't have to be a smart thrill, just an entertaining one. 
Melvin White
Super Reviewer
Another good teen movie about the whole nuclear crisis of the 80s. This is an incredible story, but a good one too. I liked it.
The Manhattan Project Quotes
John Mathewson: So...who wants to play?
Paul Stephens: Jenny, I never thought I'd say this to anyone, but I gotta go get the atomic bomb out of the car.
Discussion Forum
Discuss The Manhattan Project on our Movie forum!
News & Features