Patrick
(1978)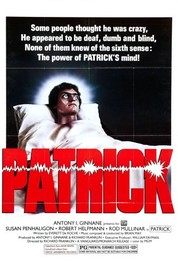 Tickets & Showtimes
Patrick Trailers & Photos
Movie Info
Though he has been in an irreversible coma (a "persistent vegetative state") for several years, Patrick is aware of his surroundings. He also has telekinetic powers which enable him to move objects around by willpower alone. This is helpful, because even if he was able to fully awaken, his body could never move again. Nobody shows much interest in having him awaken, since before he was incapacitated, he murdered his mother and sister. When Kathy, the new nurse (Susan Penhaligon) takes over his care and gives him more than perfunctory attention, he begins to fall in love with her. She becomes aware of this when she begins finding strange love notes in her typewriter. Patrick's body is deteriorating, and his doctors would like to pull the plug on him. Instead, he causes their deaths. Now increasingly aware of his terminal condition, he seeks to induce his nurse to join him in death.
more
Cast
News & Interviews for Patrick
Critic Reviews for Patrick
Audience Reviews for Patrick
Bruce Bruce
Super Reviewer
½
Australian Sci Fi horror film that has hints of previous genre films is an obscured gem that has an interesting premise despite formulaic ideas. Patrick is a tense, thrilling film that relies on effective visuals to build up the tension on-screen. Director Richard Franklin direction is immaculate and precise, and he understands how to build up the tension to make the viewer feel uneasy. Acting wise, the cast give some pretty good performances and bring something special to the screen. There are some truly intense scenes that are quite chilling, and this is one of the most surprising obscured gems in the genre. Horror fans owe it to themselves to see Patrick as it is a well crafted film that has enough chills to keep you interested from start to finish. The idea is quite intriguing and director Richard Franklin brings a certain Hitchcock feel to the movie that makes it quite unnerving. The actors are quite good in their parts and a performance of note is that of Robert Thompson as the title character. He speaks a word, and only acts using facial expressions. I enjoyed the film very much and I recommend this one to any horror fan that enjoyed such films as Carrie. This picture uses telekinesis as a plot device and it works well despite the fact that it is something that we've seen before. Patrick is an obscured gem of a film that deserves to be rediscovered by genre fans. With a good cast, an interesting story and effective chilling moments, Patrick is one of the best films in the Aussie genre of films. If you're in the right mood, you're sure to like this one. This is one of the few films that have something for every horror fan. Even with borrowed elements of other movies, director Richard Franklin creates something unique with this film, and in the process makes one of the most memorable of all Aussie horror films. The film has its flaws, but is thrilling from beginning to end.
½
Carrie-esque Aussie-horror about a comatose hospital patient named Patrick who has lost as his senses but to compensate he has developed dangerous psychokinesis powers which he uses to win the affections of his newly oppointed nurse. I enjoyed this one, quite good fun. Very low body count so it's quite tame, but it's effectively made and an entertaining little ride. The last 30 minutes are the best. Worth a look.
Discussion Forum
Discuss Patrick on our Movie forum!
News & Features