Sorcerer
(1977)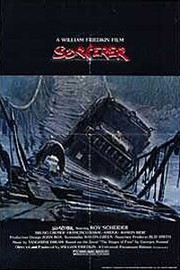 Sorcerer Trailers & Photos
Movie Info
In a remote South American town, four expatriates with nothing to lose agree to drive a truck carrying highly explosive chemicals over miles of hazardous terrain. The drivers will be handsomely paid -- if they survive. This knuckle-biting thriller is a remake of the French classic The Wages of Fear.
more
Universal/Paramount Pictures
Cast
News & Interviews for Sorcerer
Critic Reviews for Sorcerer
Audience Reviews for Sorcerer
Being an immense fan of the Clouzot's Wages of Fear, coupled with knowing Friedkin's hubris, made me not to thrilled to give this movie a whirl. However, my love for Scheider got the best of me and I finally spent some time with the film. And man am I glad I did.
Does Friedkin ratchet up the suspense that makes the original feel stodgy? Never. But he does come pretty damn close and some scenes are pretty impressive to watch.
While he misses capturing the desperation that is the focus of the original, Friedkin still focuses on greed as the prime motivation for these men. Unfortunately, he gives few captivating moments of how American economic exploits are tearing apart this Nicaraguan town and misses what I think were many good opportunities to really drive his point home. Yet, he seems less determined to make a statement and more intent on just taking the audience on one hell of a thrill ride. Sadly, this also means that we are kept at a distance from getting emotionally involved with these characters, even though Friedkin takes the time to give us a detailed backstory for most of them.
On the whole, the film takes a different route than the original. It forgoes a message about economic greed and corporate domination, and really tries to give us a solid thriller. While his vision doesn't make for a breathtaking film, it is still a strong effort from Friedkin.
As the characters in the picture, maybe William Friedkin was doomed from the instant he decided to tempt providence going back to H.G Clouzot's masterpiece. His most ambicious project was, from early stages, development hell, plus a terrible distribution date that condemned it to be a flop, but worst things happened when the studio re cut it, and took away a lot of important footage, that's why from the moment this group of expendables aboard their vehicles and start their ordeal the rhythm of storytelling feels broken, with not enough interaction between them as in the original film.
Nevertheless, it does justice to the original. some sequences are impressive, the suspense reached is almost unbearable, and Friedkin's trademark gritty documentary style suits the story perfectly.
Tangerine Dream's soundtrack is classic, and Roy Scheider performance as a psychotic, world-weary fugitive is simply badass.
One of those remakes done with passion and enough originality to be taken into account, rescued from obscurity.
Discussion Forum
Discuss Sorcerer on our Movie forum!
News & Features