Tarzan the Ape Man
(1932)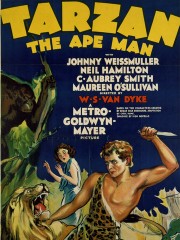 Tickets & Showtimes
Tarzan the Ape Man Trailers & Photos
Movie Info
The original and definitive Tarzan sound movie -- following several silent films on the same subject -- stuck fairly closely to the novel by Edgar Rice Burroughs. Olympic swimming champion Johnny Weissmuller was cast by MGM as the European boy who was raised by gorillas in the jungle after he and his parents were shipwrecked and his parents died. Three ivory hunters lead an expedition into the jungle hoping to find the Elephant's Graveyard. They are James Parker (C. Aubrey Smith), his daughter Jane (Maureen O'Sullivan), and her boyfriend Harry Holt (Neil Hamilton). They lose one of their servants crossing the rugged mountains, and eventually, they are ambushed by the ape man. Tarzan is heard with his lusty yell, then jumps out of the treetops and snatches away Jane. He releases her, then she saves him from the retaliation of her father and Harry. Soon she is in love with Tarzan, swinging with him through the trees and teaching him English in the famous "Me Tarzan, you Jane" exchange. This Hollywood classic set the stage for innumerable sequels and remakes and an eventual television series. ~ Rovi
more
Cast
News & Interviews for Tarzan the Ape Man
Critic Reviews for Tarzan the Ape Man
Audience Reviews for Tarzan the Ape Man
Antonius Block
Super Reviewer
I thought I'd seen this before, but after watching it again, I'm not sure I've ever seen it in its entirety. I've read the first 6 books in the series, albeit many years ago, and I have to say I enjoyed them much more than this film. Naturally, the mentality of the greedy white expedition leaders sickened me. If it moves, shoot it! It reminded me so much of the redneck, hillbilly mentality of humans today. If it moves, shoot it, then drink some beers! Unfortunately, one of them managed to make it out of the jungle, while every single one of their well whipped, dark skinned pack mules got wasted. I also had to laugh at them acting in front of a screen playing a film as if they were right there. Even for 1932, I thought that was shoddy. The meat of the film was entertaining enough, with some action, a small bit of suspense, a bunch of sadistic pygmies and even some wild, white monkey romance. It was also nice to watch a film with just a touch of dialogue in my native Swahili. I guess it's all the senseless animal slaughtering that left such a bad taste in my mouth. Oh, and since when are there trapezes hanging in the trees in Africa? Ehh, extra half star 'cause it's fucking Tarzan!
The first of the famous Tarzan series starring Johnny Weissmuller is a decent movie...it isn't great, but it is decent. I liked both Weissmuller and O'Sullivan, but the pacing leaves something to be desired.
Ken Scheck
Tarzan the Ape Man Quotes
Discussion Forum
Discuss Tarzan the Ape Man on our Movie forum!
News & Features