Uncommon Valor
(1983)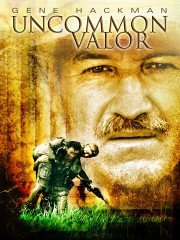 Tickets & Showtimes
Uncommon Valor Trailers & Photos
Movie Info
In this action-adventure set after the Vietnam war, retired Army colonel Rhodes still believes that his son, who disappeared in Laos a decade before, is still being held as a POW. Rhodes enlists the financial aide of a patriotic oil tycoon and gathers a motley crew of Vietnam vets. After intensive training, they return to the jungles to find the missing son.
more
Cast
News & Interviews for Uncommon Valor
Critic Reviews for Uncommon Valor
Audience Reviews for Uncommon Valor
Ted Kotcheff followed up his Vietnam vet saga First Blood with this little action romp whose plot is basically the same as that of the second Rambo film, though Kotcheff didn't direct that one.

Gene Hackman is former Marine Colonel Rhodes who, for a decade, has been getting the run-around concerning the fate of his son who was captured as a POW during the Vietnam War. After hearing that his son and some other soldiers are possibly still alive and in a prison camp in Laos, the good colonel enlists the help of his son's former squad mates to form their own private rescue force, funded by MacGregor, an old friend of Rhodes who is a wealthy oil baron.

This is basically just a fun "men on a mission" type of movie, namely The Dirty Dozen, with a plot that, as mentioned, was later used for First Blood part II. I appreciate that the film tries to deal with an important issue, but I didn't like that it ends up being a cheesy, silly, and cliched action romp. A more dramatic and serious approach, I think, would have been more welcome. It's not as over the top as the second Rambo film, but it is fairly light fare.

The film does have it's heart in the right place, but I just thought it would have been a bit more original and less silly. I did have some fun watching it, hence why my grade isn't worse, but yeah, this is predictable, corny, and 80s in the extreme. Hackman does a decent job in the lead though, and he does elevate the proceedings a bit. Robert Stack is also fine as MacGregor, and I do love his voice. As for the men Rhodes recruits, we get the likes of Fred Ward, Reb Brown, Randall "Tex" Cobb, Harold Sylvester, Tim Thomerson, and a young Patrick Swayze. They all provide fair enough performances, despite being nothing but stock characters.

The film does have some passable music, some of the sequences are competently done, and it is watchable, but I really have to admit that this should have been a lot better. See it if you want, but just don't expect anything amazing.
Chris Weber
Super Reviewer
Looks like the final battle of the Vietnam conflict is about to begin. A sort of Missing combined with The Dirty Dozen, but not as good as either of those movies.
Dean McKenna
Super Reviewer
Uncommon Valor Quotes
Sailor: Boy, you usin' that oriental martial bullshit on me's gonna get real expensive.
Blaster: Most human problems can be solved by an appropriate charge of high explosives.
Col. Rhodes: We'll need transportation... preferably four-wheel drive.
Wilkes: Buy it or 'borrow' it?
Col. Rhodes: Steal the fucker!
Discussion Forum
Discuss Uncommon Valor on our Movie forum!
News & Features