Walking Tall
(1973)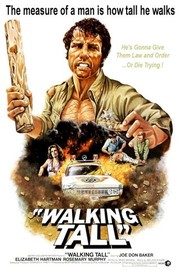 Tickets & Showtimes
Walking Tall Trailers & Photos
Movie Info
This film is the unabashedly manipulative story of real-life Tennessee sheriff Buford Pusser. Pusser can either be regarded as a tireless champion of justice or a baseball-bat-wielding hooligan. When the town baddies seek vengeance by killing Pusser's wife, the you-know-what really hits the fan!
more
Watch it now
Cast
News & Interviews for Walking Tall
Critic Reviews for Walking Tall
All Critics (16) | Top Critics (3) | Fresh (9) | Rotten (3)
New York Times
Top Critic
its broad strokes leave no room for anything so pussified or liberal as a moral compass
... the film was a sensation, becoming a big hit and spawning a whole industry of southern-fried vigilante lawman action pictures.
A new, and arguably improved, Walking Tall, starring pro wrestler-turned-actor, The Rock.
Audience Reviews for Walking Tall
Mister Caple
Super Reviewer
I saw this after seeing the remake, and I have to say that this one is a lot stronger. I really liked it, it's realistic, even with the violence. The beginning is a little slow, but it doesn't matter, the rest is great. I really liked this movie.
½
Southern-fried justice, holding a big stick.
This film was a delicious slice of Americana kick-ass and Joe Don Baker is amazingly effective as the human embodiment of a Timex watch, playing a real dude Bufford Pusser.
Although this film is longish, it doesn't drag and it is jam packed with content and doesn't really loose momentum as it barrels down a hill made of Buford's desire to take the law into his own hands. AND it has a car chase, with a pick-up and a squad car, how great is that.
There are some glaring political incorrectness that borders on offensive but it comes with the time as this film's era sticks out like a me at a hip-hop.
Although the filmmaking was intentionally crude you can see the boom mic peeks into shots and hang out more times than you can count.
That being said it's a classic. See this and for get about Dwayne Johnson and Kevin Sorbo, their films don't even have Bufford Pusser, and he's some kind of guy.
Discussion Forum
Discuss Walking Tall on our Movie forum!
News & Features