Wuthering Heights
(1939)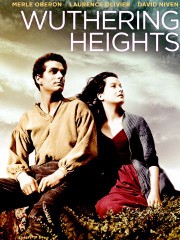 Wuthering Heights Trailers & Photos
Movie Info
Growing up together in 19th-century Yorkshire, Heathcliff and Cathy form a deep bond. In young adulthood, Cathy wounds the penniless Heathcliff by marrying into wealth, and his obsession with revenge leads to tragedy. Laurence Olivier is brilliant as the brooding Heathcliff in this poetic adaptation of Emily Bronte's novel.
more
Cast
News & Interviews for Wuthering Heights
Critic Reviews for Wuthering Heights
Audience Reviews for Wuthering Heights
Devon Bott
Super Reviewer
½
my only excuse for having missed on this classic for sooo very many years is that i thought it only a "chick flick". whatta maroon, shame on me. with great writing, direction, and acting par excellence (olivier is to die for - and kathy does, merle oberon's death scene is stroke for stroke gloria swanson's last scene in "sunset boulevard", and flora robson finally gets some r-e-s-p-e-c-t in a movie!) by the entire cast, this old story hinged upon class warfare ("we're better than you!" "no you're not!" yah-hoo! ah luv it!) is as fresh as the day they thunk it.
Wuthering Heights tells the story of two people destined to be together, however they do nothing but hurt each other. It's a fantastic romance and a wonderful adaptation, despite only covering half of the actual book. Olivier is cold, strong and sophisticated in a very impressive role. Despite his constant facial expression his eyes and words display a vast array of feelings. Oberon is also a class act. She is spoilt, selfish and downright mean, though often sweet and confused. Everybody gets a moment to shine, especially against the wonderfully created sets. At its core Wuthering Heights is a tale of revenge, but in the most subtle of ways. Sly conversational digs, the odd shifty look. Could have been better if they had played the Kate Bush classic at some point.
Wuthering Heights Quotes
Catherine Earnshaw: I am Heathcliff.
Heathcliff: I didn't break your heart, Cathy, you did. And mine.
Catherine Earnshaw: No matter what I ever do or say, Heathcliff, this is me -- now -- standing on this hill with you. This is me, forever.
Discussion Forum
Discuss Wuthering Heights on our Movie forum!
News & Features