The Rookie
(1990)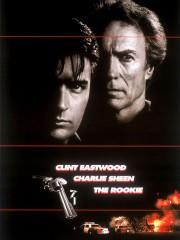 The Rookie Trailers & Photos
Movie Info
Packing years of experience and a .45 automatic, LAPD Detective Nick Pulovki figures he's got all the help he needs. He's also got all the help he doesn't need. His new partner is The Rookie. Director/star Clint Eastwood is Pulovski. Charlie Sheen is the by-the-book newcomer. Each reluctantly relies on the other to stop a killer-elite gang of auto thieves. Raul Julia, Sonia Braga, Lara Flynn Boyle and Tom Skerritt co-star with the most spectacular action sequences Eastwood has ever filmed (Dave Kehr, Chicago Tribune). A freeway becomes an 80-mph bumper car game. A barrio bar busts open like a giant piń;ata. The two drive through a wall to escape an exploding buildingfive stories up. Fasten your seat belt.
more
Cast
News & Interviews for The Rookie
Critic Reviews for The Rookie
Audience Reviews for The Rookie
Clintus Maximus
Super Reviewer
It was an okay movie. And it was nice to see Clint Eastwood actualy do something instead of just stairing into the sun for two hours
Martin Sahlin
Super Reviewer
½
First time I've actually seen this uncut it seems as allot of the swearing and violence...err I've never seen before hehe. Clint teams up with a slightly chubby yet fresh faced Charlie Sheen to take down the nasty yet comically dastardly looking Raul Julia in this by the numbers cops v baddies buddie action flick.

It shows how my taste has changed as I recall loving this when I was a teen but watching it now it really is quite lame with terrible performances from everyone, Clint is just 'Dirty Harry' again albeit with more humorous dialog and Sheen is just Sheen like he is in every film he's made.

We move from setup to setup as the good guys plod along piecing together evidence whilst getting into all manner of outrageous problems and taking various body blows. Lots of shooting n missing, stereotypical bad guy characters and one very good car stunt out of a building and voila! your typical Saturday night takeaway 80's/90's action flick, Sheen for the young and Clint for the old.
Discussion Forum
Discuss The Rookie on our Movie forum!
News & Features