Quicksand (1950)
(1950)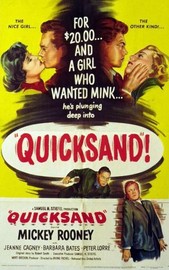 AUDIENCE SCORE
Critic Consensus: No consensus yet.
Quicksand (1950) Trailers & Photos
Movie Info
Mickey Rooney, with his kid roles and musicals behind him, went for a major change of image in this harrowing film noir. He gives what many consider to be the best performance of his career as Danny Brady, a well-meaning grease monkey whose life is destroyed in less than a week. Danny finds himself short of cash when he's supposed to take out Vera (Jeanne Cagney), a waitress whom he's just met who works at a hash-house. He borrows 20 dollars from the cash register, planning on paying it back with 20 dollars that a buddy owes him the next day, but the friend doesn't turn up. To get the 20 dollars, he buys a 100-dollar watch on a payment plan and then hocks it for the 20 dollars, but a detective picks up on the purchase and threatens to have him jailed if he doesn't pay the full 100 dollars immediately; desperate to raise the money, he robs a drunken bar patron of his bill-fold. His money problems seemingly behind him, Danny takes Vera out with the extra cash, but gets into a fight with her former boss, Nick (Peter Lorre), who picks up a clue that Danny did the robbery. Nick pressures Danny to provide him with a new car (a hard-to-get commodity in 1950) from the garage where he works, in return for keeping quiet. Danny steals the car and turns it over to Nick, but he and Vera decide to get even by robbing Nick's safe that night -- now they've got 3,600 dollars, which they split. But Danny's boss, Mackey, tells him he knows who stole the car, and wants either the car back or the full value, or he'll turn Danny in to the police. Vera has already blown her share on a mink coat, and he goes back to Mackey with what he has, 1,800 dollars. Mackey takes it and proceeds to call the police. Danny attacks him and leaves him for dead. Danny goes on the run, convinced he's wanted for Mackey's murder. Danny runs into Helen (Barbara Bates), a nice girl that he was dating and then dumped, and they end up fleeing together, hijacking a car and holding an innocent man at gunpoint. Impending tragedy seems to loom up even larger when they cross paths with police officers on a manhunt. Realizing that Helen has been good to him, he ends up on the run alone, with a gun in hand, as the law closes in. ~ Bruce Eder, Rovi
more
Cast
News & Interviews for Quicksand (1950)
Critic Reviews for Quicksand (1950)
Audience Reviews for Quicksand (1950)
Veronique Kwak
Super Reviewer
Quicksand is a classic example of what I like to call a Damn Shame. It has great direction, great photography and a great supporting cast. But sticking Mickey Rooney as the lead in what had all the possibilities to be considered one of the great examples of film noir is like sticking a moose-hunting rookie governor made out of turkey giblets in your VP spot for your presidential run. Easily one of the biggest casting mistakes you've never heard of. Not bad to check out if you can get past the war crime casting but Rooney was just to weird, annoying and above all, unbelievable. But the scene where Rooney fights Peter Lorre was damn funny. It was like watching two trannies fight.
½
A film noir about crime not paying, literally. This one should be shown to impressionable teens that one thing leads to another, and another and still another until all control is lost. A production of Rooney and Lorre who joined to finance the film. Fast paced, it's under and hour and a half long (ie 79 minutes).



Mickey Rooney is now a semi-mature adult fresh from all those innocent, naive Judy Garland / Rooney romance films of the musical era. Instead, he gets caught up in a life of crime, at first a working car mechanic who can't find anyone with $20 for a hot date. From there the whole plot snowballs into a frenzied crime to cover yet another crime.


[img]https://encrypted-tbn0.gstatic.com/images?q=tbn:ANd9GcQar2dLUU-V4QGp-XmYwopLEiZh_K90eZXIBjbeitfunbneP9evEg[/img]

Peter Lorre is an arcade owner/manager who figures into this web of corruption. Jeanne Cagney, sister of famous Jimmy Cagney, plays an oddly older woman than Rooney, but at least 10 years! Look for an uncredited appearance by now veteran Western actor Jack Elam!

Rooney fancies himself a ladies man and succeeds getting a date with the woman, only to find himself sinking into "Quicksand". Rooney goes against his clean cut roles as was even more done in Boys Town with Spencer Tracey. In that one he was a juvenile delinquent that only Father Tracey could reform.

[img]https://encrypted-tbn2.gstatic.com/images?q=tbn:ANd9GcQ3RdlBBiffH9RYxQHQiMEyg_fwzk0vhRzjU60d5tG_WOdLBv6O[/img]



REVIEWS by those like us:

70%
Gritty and tough crime yarn about the misfourtunes of car mechanic Mickey Rooney and the downfall of what happens when he just borrows 20 bucks from t...

90%
A gem for a TV movie! Mickey Rooney as a (mostly) believable nice guy who gets caught up in a series of quickly made bad choices. It begins with wanti...


[img]https://encrypted-tbn1.gstatic.com/images?q=tbn:ANd9GcTUd500oNPbZFDZVKiaW03ZEs9CydVLx79Jb6A1I0Rb0ZHzqSy1Og[/img]



For me though, a bit corney from the start, I can only think of a 70% rating, others give it a 60-80%. It's the usual fast talking dialog redone hundreds of times in the era. And Rooney could out talk anyone except maybe Jimmy Cagney, the all time fast talker, wise-cracker.


You can see this film in its entirety here:

http://www.youtube.com/watch?v=gtuw4ETvOkY



NOTES about the film:

1 A young Jack Elam, later widely noted as a character actor in Westerns, appears in an uncredited speaking role.


2 This film has one of the first examples of product placement with a box of Bit-O-Honey candy bars by Jeanne Cagney's cash register.

3 Rooney co-financed Quicksand with Peter Lorre but their shares of the profits were reportedly left unpaid by a third partner.

4 Bruce Eder of Allmovie wrote Rooney "...gives what many consider to be the best performance of his career" and characterized Quicksand as "one of the more fascinating social documents of its era."


5 Fifty years after the film's first theatrical release DVD Savant noted, "the quasi-downbeat ending of Quicksand doesn't simply let him off the hook, [which] makes for an unusually mature ending."

[img]https://encrypted-tbn2.gstatic.com/images?q=tbn:ANd9GcQ-16inbqqXFkzt4XjcOT6Tp93HQnymTtVbyBcmOvKEh5tCmy0W[/img]

Directed by Irving Pichel
Produced by Mort Briskin
Samuel H. Stiefel
Written by Robert Smith


Starring

Mickey Rooney
Jeanne Cagney
Barbara Bates
Peter Lorre


Music by Louis Gruenberg
Cinematography Lionel Lindon
Editing by Walter Thompson

Distributed by United Artists
Release date(s) 24 March 1950


Running time 79 min.
black and white


[img]https://encrypted-tbn0.gstatic.com/images?q=tbn:ANd9GcR8yLCL7_C0HWJWOlikaE4p46hkH_RM_MujSwW_203glF2w5BxUcw[/img]
monsieur rick
Quicksand (1950) Quotes
Dan Brady auto mechanic: I don't get it, why do you want to help me? When things were going good all I ever did was give you the runaround - now that I'm in a jam... why don't you get smart and stay away from me?
Helen: I've been away from you too long - and it isn't any good! Don't you think that I know that I'm dumb to throw myself at a guy that doesn't want me?; don't you think I know I'm a fool to wait at a street corner for an hour just waiting for you to come out of a door? I know all that; but I can't help it. I fell in love with you the first time I saw you, Dan.
Dan Brady auto mechanic: I'll drive you home.
Vera Novak cafe cashier: Give me a nickel, Danny. I'll show you how to beat this game. [After less than a minute at a pinball machine, Dan is highly impressed.] One ball. Hey Nick, pay me! I hit the jackpot.
Nick Dramoshag Penny Arcade Owner: Here. [Nick gives Vera a couple dollars as a prize - then puts up an 'Out of Order" sign.] That's all for you.
Dan Brady auto mechanic: Hey, wait a minute. [Dan flips the sign back out of sight.] Go ahead honey, play it as much as you want.
Vera Novak cafe cashier: Take it easy, Danny; I can handle Nick myself. I used to work here, didn't I Nick?
Nick Dramoshag Penny Arcade Owner: [mumbling] yeah. you come back, huh?
Vera Novak cafe cashier: [referencing a mink coat by running her fingers along the lapel of her own plain coat.] It's still in the window, Nick, just like yesterday.
Nick Dramoshag Penny Arcade Owner: You crazy? - what do you think I am; a millionaire?
Dan Brady auto mechanic: What's going on here?
Vera Novak cafe cashier: Oh let's skip it. [taking Dan by the arm] Let's have our pictures taken. C'mon. See you later, Nick.
Dan Brady auto mechanic: [Honking car horn off camera as Vera comes out of diner. She turns and slowly walks several feet his way.] Taxi, lady?
Vera Novak cafe cashier: Where's your meter?
Dan Brady auto mechanic: I'll figure out the fare as we go along. [He chuckles]
Vera Novak cafe cashier: You might over-charge me.
Dan Brady auto mechanic: I might at that. Hop in honey. [She opens the convertible's door and sits next to Dan.] Where'd you like to go.
Vera Novak cafe cashier: Let's go downtown, window shopping.
Dan Brady auto mechanic: ahhh, how boring can you get.
Vera Novak cafe cashier: [with a smirk] Well, that's what I want to do. We can do, uhh, something else, later.
Dan Brady auto mechanic: You have a deal, Honey.
Discussion Forum
Discuss Quicksand (1950) on our Movie forum!
News & Features