Wild Side (All The Way)
(1995)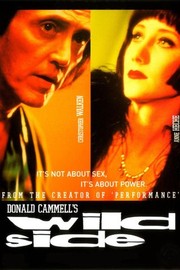 Tickets & Showtimes
Wild Side (All The Way) Trailers & Photos
Movie Info
Alex (Anne Heche) is a corporate banker who refuses to prostitute herself for the company but has house payments to make so she becomes a call girl on her own terms. After hooking with bad-boy criminal Bruno Buckingham (Christopher Walken), she is then approached and raped by FBI-agent Tony who is posing as Bruno's driver. Alex is caught in a squeeze where she has to keep seeing Bruno, working with the FBI. Her first job as Bruno's new girl is to set up an account for Bruno's wife, Virginia (Joan Chen), at her bank. Suddenly Alex discovers she's a lesbian as she falls for Virginia and the two have a sexual encounter. Together, Alex and Virginia attempt to send up Bruno and leave the country together. The story for this soft-core crime film is as loose as the characters, most of it feeling like it was improvised. The entire plot seems to take back seat to the sexuality and works as little more. ~ Sean D. MacLaggan, Rovi
more
Cast
News & Interviews for Wild Side (All The Way)
Critic Reviews for Wild Side (All The Way)
Audience Reviews for Wild Side (All The Way)
Tsubaki Sanjuro
Super Reviewer
½
Donald Cammell's weakest film, but that being said, his visual bravado is still present in full force, complete with elliptical editing and dream-like ambiance... it's just a shame that the story being told wasn't that interesting at all... great performance by Christopher Walken, who makes every scene he's in captivating, but everyone around him is merely serviceable... how I longed for this to be a beautiful swan song to an artist's career, but alas it nothing but an interesting and intriguing failure... recommended for fans of the director and art-house lovers, but others would be better off watching one of Cammell's earlier works ("Performance", "Demon Seed", or "White of the Eye").
I only have the 96 minute, unrated Studio version of this film. I would love to get a chance to see the 112 restored cut, the one based off the original edit and the director's notes. But until the day they release the 112 minute cut in the U.S., I'm stuck with the 96 minute studio version, which I still enjoy despite that its not fully what Donald Cammell had in mind when he and China Kong wrote it, and when he shot it. But still, one of my favorites.
Daniel Strickland
Discussion Forum
Discuss Wild Side (All The Way) on our Movie forum!
News & Features