Man of the Year
(1995)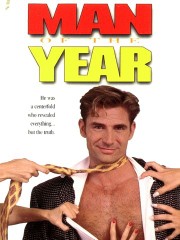 Man of the Year Trailers & Photos
Movie Info
This film is a unique combination of documentary, drama and comedy, and uses real people as well as professional actors to chronicle the experiences of Dirk Shafer who in 1992, was voted Playgirl magazine's man of the year. For the athletic, blond and extremely photogenic Shafer this fame was a double-edged sword. On one hand, he really needed the money; on the other, he had just come out of the closet. Still he went for the gusto and spent much of the year touring about and getting interviewed on talk shows. Only a few close friends and family members knew that he was a homosexual; to everyone else he was the epitome of heterosexual masculinity. This naturally, created problems with Mike, the man Shafer wanted to get involved with. Included are filmclips from actual talk-show appearances, and interviews with family and friends, not all of whom were tickled to discover that he was gay.
more
Cast
News & Interviews for Man of the Year
Critic Reviews for Man of the Year
Audience Reviews for Man of the Year
James Higgins
½
[center][font=Century Gothic][u][size=5]Man of the Year Review
[/size][/u][size=5][size=2]
[b]Rating: 3.7/10
Rated: PG-13
Starring: Robin Williams, Laura Linney, Lewis Black, Christopher Walken, and Jeff Goldbum
Genre: Comedy/Thriller
[color=Green]My Grade: D+

[/color][/b][color=Green][color=Black]"Man of the Year" was the film with potential that just couldn't make up its mind about what it wanted to be about, so it just crumbled beneath its feet. Like so many of the other "political comedies" that have come out in the past years like "Welcome to Mooseport", "Head of State", and "American Dreamz"... "Man of the Year" isn't funny enough to be called a comedy and it doesn't have enough to say that really means anything to the audience. Barry Levinson who started off his career strong and went down from here (his past film being one of the worst films of all time "Envy") he keeps going down with "Man of the Year." Like so many other so-called comedies of the last year, this film suffers from the indecisive and horrific illness called "The Click Syndrome"... it just can't make up its mind at all, so we're given two genres that just don't mix well.

[img]http://img340.imageshack.us/img340/8140/manoftheyearpicch0.jpg[/img]

While Robin Williams has his hilarious quips and some very funny little bits during the "debate" scene, he just can't keep this movie on its two feet. Laura Linney and Jeff Goldblum are left in the dust with an absolutely ridiculous backstory that is more thriller and horror, than it is funny. The audience is asked of to care about Williams' story about becoming president, but its so hard to do because there's this other unneeded story about this computer ballot that turns into a chaotic suspense story lacking any sort of sense. I wanted to like this movie, but there's really no possible way that you can. Neither story is developed enough... so, the audience doesn't care about either story... or the movie for that matter.

[b]Concensus: [/b]An indecisive little film, that suffers from annoying genre-switches... its not funny or suspenseful enough to make anything work.

[img]http://img180.imageshack.us/img180/9414/manoftheyearposterbigei4.jpg[/img]
[size=4][u][b]Next Review: A Guide to Recognizing Your Saints[/b][/u][/size]

[/color][/color][/size][/size][/font][/center]
Shawn Fraxon
Unusual part documentary and part mockumentary, it's often hard to tell what is real and what isn't. Whatever the case it is interesting and also very funny at times. Cleverly put together by director star Dirk Shafer.
James Higgins
Discussion Forum
Discuss Man of the Year on our Movie forum!
News & Features