A Time to Kill
(1996)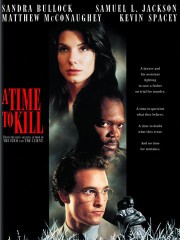 TOMATOMETER
AUDIENCE SCORE
Critic Consensus: Overlong and superficial, A Time to Kill nonetheless succeeds on the strength of its skillful craftsmanship and top-notch performances.
Tickets & Showtimes
A Time to Kill Trailers & Photos
Movie Info
Carl Lee Hailey takes the law into his own hands after the legal system fails to adequately punish the men who brutally raped and beat his daughter. When Hailey chooses novice lawyer Jake Brigance to handle his defense, it begins to look like a certainty that Carl will hang.
more
Cast
News & Interviews for A Time to Kill
Critic Reviews for A Time to Kill
Audience Reviews for A Time to Kill
½
The book must be also powerfull ,nothing left but to find out ...
This incredibly enthralling court drama tries to juggle a lot of themes at the same time and yet succeeds. Race issues in the southern US meet the question of taking law into your own hands to punish those who deserve it. The film can rely on a gripping script and a stellar cast. The dialogs, while sometimes not without stereotypes, are spot on most of the time and deliver strong scenes that demand everything from the actors. McConaughey, Jackson and Spacey all deliver. It's probably physically impossible not to be moved one way or another by the events of this film, even if you catch yourself realizing how it is playing you. The result is so well filmed and delivered that it is nothing less than one of the strongest and most exciting court dramas ever put on film.
A Time to Kill Quotes
Jake Brigance: Now Imagine She's White.
Carl Lee Hailey: Yes They Deserved To Die And I Hope They Burn In Hell!
Jake Brigance: I want to tell you a story. I'm going to ask you all to close your eyes while I tell you the story. I want you to listen to me. I want you to listen to yourselves. Go ahead. Close your eyes, please. This is a story about a little girl walking home from the grocery store one sunny afternoon. I want you to picture this little girl. Suddenly a truck races up. Two men jump out and grab her. They drag her into a nearby field and they tie her up and they rip her clothes from her body. Now they climb on. First one, then the other, raping her, shattering everything innocent and pure with a vicious thrust in a fog of drunken breath and sweat. And when they're done, after they've killed her tiny womb, murdered any chance for her to have children, to have life beyond her own, they decide to use her for target practice. They start throwing full beer cans at her. They throw them so hard that it tears the flesh all the way to her bones. Then they urinate on her. Now comes the hanging. They have a rope. They tie a noose. Imagine the noose going tight around her neck and with a sudden blinding jerk she's pulled into the air and her feet and legs go kicking. They don't find the ground. The hanging branch isn't strong enough. It snaps and she falls back to the earth. So they pick her up, throw her in the back of the truck and drive out to Foggy Creek Bridge. Pitch her over the edge. And she drops some thirty feet down to the creek bottom below. Can you see her? Her raped, beaten, broken body soaked in their urine, soaked in their semen, soaked in her blood, left to die. Can you see her? I want you to picture that little girl. Now imagine she's white!
Carl Lee Hailey: Yes they deserve to die and I hope they burn in Hell!
Discussion Forum
Discuss A Time to Kill on our Movie forum!
News & Features