The Siege
(1998)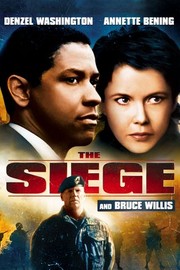 The Siege Trailers & Photos
Movie Info
Edward Zwick directed this action thriller about Islamic militants unleashing terrorism in New York City. As FBI Terrorism Task Force-chief Anthony Hubbard (Denzel Washington) investigates, a false-alarm bomb threat is followed by a legit bomb, with many killed when a Brooklyn bus explodes. Agents track a suspect through Brooklyn, while Hub teams with Middle East expert and NSA operative Elise Kraft (Annette Bening). After the FBI wipes out three Arabs in a Brooklyn apartment, an explosion in a Broadway theater is followed by attacks on a school and FBI headquarters. When the President declares martial law, neo-fascist Army General William Devereaux (Bruce Willis) swings into action, deploying tanks through Brooklyn, capturing Arab-American males, and herding them into an open-air stadium detention camp. Hub's Arab-American FBI associate Frank Haddad (Tony Shalhoub) is disgusted and quits when his son becomes one of the Arab detainees. With the Army out of control, the power-crazed Devereaux devises plans for torture and murder, turning his attention to Hub and Elise. President Bill Clinton is seen denouncing terrorists in TV clips. ~ Bhob Stewart, Rovi
more
Cast
News & Interviews for The Siege
Critic Reviews for The Siege
Audience Reviews for The Siege
Elise Kraft: It's never the question that's indiscreet, just the answer. 

"An enemy they can't see. A nation under siege. A crisis they can't control."

I can certainly see why there are all the negative reviews for The Siege, but I can't say I didn't like it. I didn't like aspects of it, but as a whole it was a thoroughly engaging and entertaining movie. It just didn't have a whole lot more to offer the audience. The movie seems to saying contradicting things at the same time and the movie is filled to the brim with wise ass, but bad jokes. Like the joke of Bruce Willis as a General and the dialogue that comes out of his mouth. That was a bad joke.

When the U.S. secretly kidnaps a terrorist; a string of terrorist acts start to occur in New York. An FBI agent is then in for the ride of his life as he tries to stop all the different cells of the terrorist group from executing their destruction. Soon the crisis gets so far out of hand, that martial law is enacted in Brooklyn and people of Arab descent are quarantined. The movie is a little eerie in that it was made 3 years before 9/11, but also because of the whole tie in with WW2 and the detainment camps that were made for the Japanese.

As far as the movie goes, it's just descent. Denzel Washington gives a performance that you would expect from him. He's doing pretty much the same thing as he did in... well, everything. He plays the strong FBI man of morals with intensity and fire, and makes the movie go down a lot easier than it should. I can't say the same for Annette Benning, who I thought was surprisingly bad, and Bruce Willis, who just seemed ridiculous. 

In the end, I got enjoyment from Zwick's ridiculously plotted and written film; but I still see it exactly for what it is. It's not a movie that was sending anyone messages about terrorists or that has any importance in the world at all. It's purely entertainment and that was its and purpose. So, on that level it isn't a complete failure.
Melvin White
Super Reviewer
Somehow most fail to realize that if the lead character had stayed out of the CIA and military's way thousands of lives could have been saved. The directors attempt to stick it to the man backfires spectacularly and ends up making himself and the movie look childish and reeking of pseudo-intellectualism.
The Siege Quotes
Discussion Forum
Discuss The Siege on our Movie forum!
News & Features