Hamlet
(2000)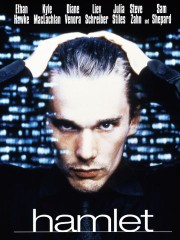 Hamlet Trailers & Photos
Movie Info
Campbell Scott is both star and co-director of this elaborate (albeit economically produced) four-hour TV version of Shakespeare's immortal tragedy Hamlet, Prince of Denmark. The film is based on Scott's earlier theatrical production of the same play, with several of the same actors repeating their same roles. Updated to 1900 New York, the text remains substantially the same as it has always been: Hamlet (Scott), the "melancholy" Danish prince, discovers to his horror that his late father, the King, was murdered by his brother (and Hamlet's uncle) Claudius (Jamey Sheridan), who upon ascending to the throne, added insult to injury by wedding Hamlet's mother, Gertrude (Blair Brown). Though his desire for revenge is strong, Hamlet does not want any more bloodshed, and concocts an elaborate scheme to "catch the conscience" of Claudius and force him into a confession. Part of this scheme involves Hamlet's feigned descent into madness -- which, as interpreted by Scott, may not be as "feigned" as he thinks it is. Caught in the middle of this intrigue is Hamlet's lady love, Ophelia (Lisa Gay Hamilton), daughter of Claudius' chief consul, Polonius (played in the manner of a protocol-conscious Victorian diplomat by Roscoe Lee Browne). Some of the choices made by Scott in adapting Hamlet to the screen -- the turn-of-the-century setting; the utilization of black actors in the roles of Polonius, Ophelia, and Laertes (who is played by Roger Guenveur Smith); the casting of Byron Jennings to play both the Ghost of Hamlet's father and the Player King, who pretends to be the father -- were applauded by the critics. Other innovations, notably the use of slow jazz music throughout the action, and Hamlet's violent treatment of poor Ophelia during the "Get thee to a nunnery" scene, were not so enthusiastically received. Whatever the case, Scott does a remarkable job with a tiny budget and a slim 29-day shooting schedule. In addition to the actors' lilting interpretation of the Shakespearean dialogue and soliloquies, the film boasts a truly exciting climactic duel, shot in long takes without the use of stunt doubles. Initially produced for a theatrical release, this Hamlet made its American debut as a cable TV miniseries on the Odyssey Channel, beginning December 10, 2000. ~ Hal Erickson, Rovi
more
Cast
News & Interviews for Hamlet
Critic Reviews for Hamlet
Audience Reviews for Hamlet
Good modernisation, but not as spectacular as Baz Lurmans Romeo and Juliet update. Also, for Hamlet, is not one of the best versions.
An all star cast performs and modern day New York is the setting for yet another take on the Bard's most well known play, with less emphasis on delivery of the lines (the iambic problem) than on the emotional intent implied by the words. Not for everyone, but then neither is iambic pentameter. The casting choices are inspired.
Discussion Forum
Discuss Hamlet on our Movie forum!
News & Features