Attila
(2001)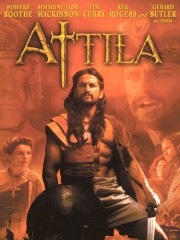 AUDIENCE SCORE
Critic Consensus: No consensus yet.
Tickets & Showtimes
Attila Trailers & Photos
Movie Info
Attila the Hun, fabled leader of a band of nomadic warriors who fearlessly took on the might of the Roman Empire, has his life story brought to the screen in this two-part miniseries. Attila (Gerard Butler) raised an army from the people of Caspia, and in time created a fighting force so strong that they received an annual tribute from the leaders of Rome as an inducement not to attack. Not all Romans were happy with this situation, and in time it was decided that General Aetius (Powers Boothe), a brave yet unscrupulous leader who attempted to usurp the rule of Empress Placidia (Alice Krige), was the only man who could confront Attila on his own terms. Aetius recognized Attila's skills as a leader, and decided the best way to prevent him from invading Rome was to lead him into an alliance, as Rome and the Huns joined forces against a third nation. But despite their mutual respect, it soon became apparent that only one man could be the undisputed leader in a meeting between Rome and the Huns. Attila also features Tim Curry as Theodosius, Simmone Jade MacKinnon as N'Kara, and Reg Rogers as Valentinian. Attila was first aired on the USA Cable Network on January 30 and 31, 2001.
more
Cast
News & Interviews for Attila
Critic Reviews for Attila
All Critics (1) | Top Critics (1) | Fresh (0) | Rotten (0) | DVD (2)
Audience Reviews for Attila
Made-for-TV quality. The famous Gerard Butler doesn't really shine. I'm still not convinced it was really him....
For a TV-made movie, this is an excellent historical action pic, although I'm willing to bet the writers covered the real Attilla in a sugary-sweet coating. I have my doubts that he was this decent of a guy. Turned me on (boy did it ever!) to Gerard Butler too.
Attila Quotes
Attila: You Romans play with kings and nations as a child plays with toys.
Flavius Aetius: I go back to Rome soon. Come with me, and learn how the world is ruled. Find out if Rome really does play with nations as though they were toys. There is no-one like you in Rome, and no-one like me here. You and I can do great things together
Attila: If we don't kill each other first.
Flavius Aetius: Civilized men are easy to conquer, but civilization still belongs to the civilized, not the barbarians.
Attila: It belongs to whoever is strong enough to take it.
Attila: Trickery and deceit. That is the way of the Romans, not of the Huns.
Flavius Aetius: Yes, but which way rules the world?
Attila: I thought that the War God had refused me a sign, but I was wrong. What better sign than an enemy prepared to fight?
Discussion Forum
Discuss Attila on our Movie forum!
News & Features