The Interview
(2000)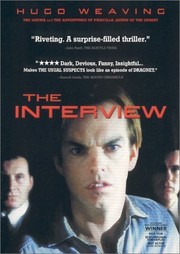 Tickets & Showtimes
Movie Info
Craig Monahan made his directorial debut with this Australian police drama in which unemployed, poverty-stricken Eddie Rodney Fleming (Hugo Weaving), after losing his wife and home, is dragged from his apartment by police and subjected to a brutal interrogation. Eventually, it becomes terrifyingly apparent to Eddie that the police consider him a serial-murder suspect. Detective Sgt. John Steele (Tony Martin) and his assistant, Detective Sgt. Constable Wayne Prior (Aaron Jeffrey), make audiotapes of their efforts to get Fleming to confess. However, they are unaware that they themselves are being investigated and are being videotaped by an internal affairs unit. The question of Eddie's guilt or innocence is effectively concealed for most of the movie. Gordon Davie, Monahan's co-scripter and the film's technical consultant, was a police officer with the Victoria Crime Squad for 16 years. The Interview was shown at several 1997-1998 film festivals (London, Montreal, Melbourne). ~ Bhob Stewart, Rovi
more
Cast
News & Interviews for The Interview
Critic Reviews for The Interview
Audience Reviews for The Interview
Julian Toepfer
A fantastically acted film that feels like a one act play, taking place almost entirely in a police interrogation room. The film plays with viewer perception and successfully increases the tension from start to finish in a way that few films are able to do.
A seriously good and intelligent thriller that should be far more well known than it is. While it has some similarities to earlier films like 'The Usual Suspects' and 'Slow Burn', it manages to ramp up the intensity even more effectively and become something even more engrossing.

To start with, the acting is top notch. Hugo Weaving is best known for his iconicly evil Agent Smith, but this is hands down his best performance. He weaves (see what I did there???) a subtlety through his character that makes him much more unsettling, and because of it you can never really get a true grasp of what he really is. Either he is an innocent man being intimidated and coerced by desperate policemen, or he is one evil dude who knows exactly what he's doing. The performance hints at both, but ultimately does not tip its hand. Tony Martin and Aaron Jeffery are also excellent as the detectives in charge of the interrogation. There are a few moments when they seem to fly off the handle and overact, but both are believable and well acted characters for the most part.

The pacing and execution of the story are strengths as well. Director Monahan just throws the viewer into the story without any prior warning and lets you figure it out as it goes. Really, its a good 40 or so minutes into the film before it is really all out on the table. This tactic is really effective in screwing with the audiences perception of Weaving's character. When the film began I found myself squarely on Weaving's side, as he his violently apprehended at his home and treated exceedingly inhumane without explanation. As the film progresses and more is revealed however, the true nature of Mr. Fleming begins to come into question. While some might complain that it starts slowly, the tension slowly ramps up to being almost unbearable as the cat and mouse games become more and more suspenseful. As it reached its conclusion, I didn't want it to end.

The dialogue is great as well. It's clever use of words leave alot to interpenetration and is another way the film avoids giving its viewers a straight answer. It offers up some seriously creepy moments which are made all the more creepy by the matter of fact and seemingly emotionless manor in which they are delivered. Alot of long pauses and dead space which say just as much as any of the dialogue. These minimalistic conversations and use of silence add another layer of building tension to the point where I found myself hanging on every word said. It almost borders on film noir both in its script and its filming techniques. Good use of light and shadow almost echo black and white film. Claustrophobic shots and camera angles combine to create an element of entrapment much as Weavings character experiences.

What I really appreciate about this movie above all else though is that it respects its audience's intelligence, and plays on it throughout. This isn't a story that is laid out for all to see, and it doesn't give you the typical lineage of storytelling. It leaves all things open to opinion and interpenetration, and lets each viewer draw their own conclusion. This is a rarely seen tactic (at least in our American cinema) and I have to say I enjoyed having my opinion figure so prominently in the final effect of the story.

While I was impressed with the movie and enjoyed it very much, I can't ignore a few flaws. The film quality isn't super good. The films stark and sterile nature feels a little contradicted by some instances of grainy quality. As great as the films pacing is as far as its revealing of plot, it drags at points outside of the interrogation room and introduces one or two perhaps unnecessary subplots. Also, while I listed the fact that it doesn't give you a concrete conclusion as a huge strength, my Americanized palate is so used to having things spelled out that I have to give this films conclusion just a bit of a raised eyebrow. That's more a fault with me than the film though.

All in all, this is an seriously well done and thought provoking movie that respects its audience. A couple things hold it back from being totally top notch, but its excellent as is. Well executed, excellently written and acted just a very intelligent thriller that should be far more recognized.
Julian Toepfer
Discussion Forum
Discuss The Interview on our Movie forum!
News & Features