Unconditional Love
(2002)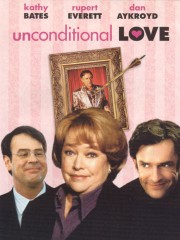 Unconditional Love Trailers & Photos
Movie Info
What's a middle-aged woman to do when her husband walks out on her and her favorite pop star is murdered by a serial killer? Writer/director P.J. Hogan explores this and many other pressing questions in Unconditional Love, a comic murder-mystery he devised with his wife and co-screenwriter, Jocelyn Moorhouse. Their heroine, Grace Beasly (Kathy Bates), finds her placid Midwestern life turned upside down after she loses both of the aforementioned men in her life: her husband (Dan Aykroyd) and the Tom Jones-like, Welsh singing star Victor Fox (Jonathan Pryce), whom she unabashedly worships. After Fox's death, Grace impetuously flies to England for his funeral. Paying an uninvited visit to his countryside estate, she discovers Dirk Simpson (Rupert Everett), Fox's longtime, secret live-in lover, who's also in a state of shock following the senseless murder. Together, the two team up, traveling back to the Windy City to find the infamous "Crossbow Killer" who took Fox's life. After receiving a fall 2002 release in the U.K., Unconditional Love had its U.S. premiere on the Starz network in August 2003. ~ Michael Hastings, Rovi
more
Cast
News & Interviews for Unconditional Love
Critic Reviews for Unconditional Love
Audience Reviews for Unconditional Love
½
Actually, it's Tom Jones. I put the CD on myself.

It's the little things . . .

And the big things. Jonathan Pryce, you are the man! What a performance.

Why did I not hear about this movie before? I really must live in some kind of cave. Mahalo nui loa, Joanna, for the rec. One very well-written murder mystery. Sui generis would be an apt term. Julie Andrews and Lynn Redgrave probably read this script and thought: Yes! I must do this movie! They look so much like they're having a blast doing this.

There are so many great things about this movie. Even the guy answering the telephone for the call-in contest, the way he reacts to what Bates says on the other end of the phone when she calls back. Amazing. If you can jam that much heart into the incidental stuff, you gotta know your movie is going to rock the proverbial house.

And the nod to Butch Cassidy and the Sundance Kid--what a moment.

I'd give it five stars . . . but . . . well . . . you know, flixster friends, it's Dan Aykroyd. Man . . . not excellent.

Still, once again, Mr. Pryce, KUDOS! You absolutely, as Julie in Australia might say, kick butt.

Second Viewing Update: Okay, if you think I'm too harsh with Aykroyd, here's an example of what I'm talking about. For me, the only reason why the restaurant scene works so well--remember, we know Everett is not really Bates' new flame--, is because of Bates' reaction to the words Aykroyd is saying to her, not because of the way Aykroyd is delivering his lines. Watch it again and tell me if I'm mistaken. I know I could be wrong. But, hey, even if you disagree, isn't Bates great in that scene?

Is it me, or do any of you confuse Ewan McGregor with Sarsgaard?
½
Very funny movie with a silly fun premise.
Discussion Forum
Discuss Unconditional Love on our Movie forum!
News & Features