Cabin Fever
(2002)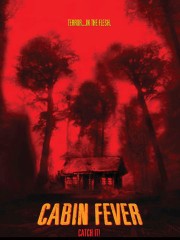 TOMATOMETER
AUDIENCE SCORE
Critic Consensus: More gory than scary, Cabin Fever is satisfied with paying homage to genre conventions rather than reinventing them.
Tickets & Showtimes
Cabin Fever Trailers & Photos
Movie Info
As a last hurrah after college, friends Jeff, Karen, Paul, Marcy and Bert embark on a vacation deep into the mountains. With the top down and the music up, they drive to a remote cabin to enjoy their last days of decadence before entering the working world. Then somebody gets sick. Karen's skin starts to bubble and burn as something grows inside her, tunneling beneath her flesh. The group is so repulsed, shocked and sickened watching their friend deteriorate before their eyes; they lock her in a shed to avoid infection. As they debate about how to save her, they look at one another and realize that any one of them could also have it. What soon began as a struggle against the disease turns into a battle against friends, as the fear of contagion drives them to turn on each other. The kids confront the terror of having to kill anyone who comes near them, even if it's their closest friend. The survivors have to find help before they're all killed by the virus, or by the local lynch mob out to destroy anyone who may have come in contact with it.
more
Cast
News & Interviews for Cabin Fever
Critic Reviews for Cabin Fever
Audience Reviews for Cabin Fever
Eli Roth's debut feature echoes hints of old school Peter Jackson gross out horror. The only difference is, Jackson's films are classics and Cabin Fever will never attain that status. Though a good effort, and unlike Roth's following films Hostel, 1, 2 (the first was better, the second was garbage), this film does have decent enough scares throughout. The tactics used by Eli Roth in Cabin Fever are nothing really new, and have already been done before in many films. Cabin Fever mostly plays out like an homage to the gross out flicks of the 80's. The film will definitely appeal to gore fans as Roth crafts a film that focuses more on the gore than on the plot. In many cases, especially with Peter Jackson's earlier efforts and the bulk of Lucio Fulci's finest films, it does work very well, and the finished product is very good despite the lack of a credible plot. In Cabin Fever, the film does have high points, but the scripts limitations are apparent. Eli Roth said that one of his inspirations for Cabin Fever was The Evil Dead. Combining elements from that film with an infection / rash type of disease is an interesting idea. However Cabin Fever is a film that just relies more on old school splatter elements than great story telling, and with that said, this should be a good time for gore hounds. In a way the material that Eli Roth presents the viewer with here is nothing new, but sometimes that's all you need for an effective horror yarn. Despite this, Cabin Fever is a decent enough horror film, but its lack of good acting and paper thin plot won't make it a classic any time soon.
½
[img]http://images.rottentomatoes.com/images/user/icons/icon13.gif[/img]

Definitely Eli Roth's most inspired, and most substantial film. But that's just damning it with very faint praise. Firstly, the acting is much better than I expected it would be, and the gore is disgusting and boasts some pretty impressive bloody corpse special effects. Especially considering the tiny budget it was made on. All this adds up to the construction of a cheesy 80's horror movie, which was exactly what Roth was trying to mimic. However he shows almost no creativity in Cabin Fever and for me he never demonstrated the extent of his talent. There was also very few shocks, and once I adjusted to the carnage, consequently, it wasn't that scary. But in the end it's interesting twist to the typical cabin in the woods story doesn't fully make it work. I think its designed brilliantly and has an environmental message, and I admire Roth's aspirations to not skimp on gore or sex, but it was unnecessary to the plot. To me, it just felt to me like a bunch of stuff i'd seen from some of the classic horror movies mashed in with one interesting premise. I honestly wish it could have been better, but redemptively, it was an honourable failure.
Directors Cat
Super Reviewer
Cabin Fever Quotes
Marcy: He's a doctor like a physician or a professor?
Justin: Yeah, he's a professor... OF BEING A DOG!
Dennis: Pancakes, pancakes!
Bert: No, no pancakes.
Dennis: PANCAKES!
Fenster: NO PANCAKES!
Discussion Forum
Discuss Cabin Fever on our Movie forum!
News & Features