Breakfast on Pluto
(2005)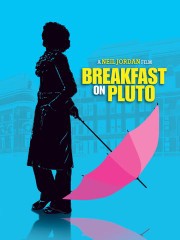 Tickets & Showtimes
Breakfast on Pluto Trailers & Photos
Movie Info
Young Patrick "Pussy" Braden flees Ireland for London during the politically tumultuous 1970s on a quest to find love and a place to call home. There he becomes a transvestite prostitute and gets involved in an IRA bombing campaign.
more
Cast
News & Interviews for Breakfast on Pluto
Critic Reviews for Breakfast on Pluto
Audience Reviews for Breakfast on Pluto
Jim Hunter
Super Reviewer
Like Patrick McCabe's novel, Neil Jordan's "Breakfast on Pluto" is episodic and fragmented. I did enjoy the way Jordan moves his camera and Cillian Murphy is committed to bringing Patrick Braden to life, but it's far too little to save the film. I found this unengaging and emotionally schizophrenic, a combination that left me feeling alienated. Plus, the chapter dividers are totally unneeded in the film, it didn't work that great in the book and on film it's totally superfluous.
Steven Carrier
Super Reviewer
½
it's a sweet and hopeful tale about a foundling named kitten, growing up strange in an irish town that never understood him, moving to swinging london in search of his long lost mother, and having many adventures along the way. cillian murphy is wonderful as kitten, a somewhat naive character who never gives up on love. takes awhile to get going and it's a bit uneven. i can't say i don't miss the dark days of mona lisa and the crying game but it's a fun film with enjoyable pop soundtrack
Stella Dallas
Super Reviewer
Breakfast on Pluto Quotes
Patrick (Patricia) 'Kitten' Braden: What is it with "nancy-boys" that you can't be bothered killing them?
Hooker: Oi. You doing business, do it somewhere else, love. This pavement's got my name on it.
Patrick (Patricia) 'Kitten' Braden: And what, pray, is your name? Concrete?
Hooker: My name is scratch your eyes out, and bite your bleed'n nose off. Which is what I'll do if you don't get off my patch.
Mr. Silky String: She giving you trouble, son?
Patrick (Patricia) 'Kitten' Braden: Oh, no trouble at all. We were just exchanging names.
Patrick (Patricia) 'Kitten' Braden: If I wasn't a transvestite terrorist, would you marry me?
Patrick (Patricia) 'Kitten' Braden: Not many people can take the tale of Patrick Braden, aka St. Kitten, who strutted the catwalks, face lit by a halo of flashbulbs as 'oh!' she shrieks, 'I told you, from my best side darlings.'
Discussion Forum
Discuss Breakfast on Pluto on our Movie forum!
News & Features