The Promise (Master of Crimson Armor) (Wu ji)
(2005)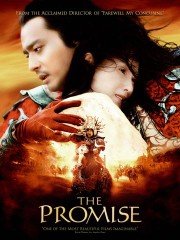 TOMATOMETER
AUDIENCE SCORE
Critic Consensus: An incoherent plot and ridiculously obvious CGI effects doom this effort from the usually outstanding Chinese director Chen Kaige.
The Promise (Master of Crimson Armor) (Wu ji) Trailers & Photos
Movie Info
Love and war conspire to create a romantic triangle in this lavish historical epic from director Chen Kaige. A young girl who has lost her parents to the violence of war bravely refuses to obey the orders of a warrior's son, and is approached by a spirit who offers her a life of wealth and power as a reward, but with a catch -- she will never know the love of a man unless she learns how to bring the dead back to life by turning back time. Two decades later, the orphaned girl has become Qingcheng (Cecilia Cheung), the adopted daughter of The King (Cheng Qian), and her nation is yet again in the grip of war. During a long and bloody battle, Kunlun (Jang Dong-gun), a slave who has been ordered to fight, proves his skill and bravery in combat, and his commander, General Guangming (Hiroyuki Sanada), rewards him by making him his personal assistant. When Guangming learns that the King is in danger, he and Kunlun set out to rescue him. Kunlun is disguised as Guangming as they prepare to fight the enemy leader Wuhuan (Nicholas Tse), who is out to assassinate the King, but when they arrive, they find that the strong-willed Qingcheng is in greater danger than the potentate as her father and his soldiers struggle to verbally and physically cut her down to size. Kunlun and Guangming impulsively rescue Qingcheng instead of the King, and as they look for a safe haven for the princess, both men fall in love with her, while both the King's forces and Wuhuan are determined to find them. Budgeted at 30 million dollars, Mo Gik (aka The Promise, Master of the Crimson Armor, and Wu Ji) was a major box-office success in China before receiving an international release.
more
Watch it now
Cast
News & Interviews for The Promise (Master of Crimson Armor) (Wu ji)
Critic Reviews for The Promise (Master of Crimson Armor) (Wu ji)
Audience Reviews for The Promise (Master of Crimson Armor) (Wu ji)
½
In a world where people running as fast as the wind drag girls on leashes behind them like kites anything's possible. So no one should make the mistake and compare this to fantastic but somewhat historical movies like Hero. This is pure fantasy, even without made-up creatures. The plot of the cursed girl between three men isn't entirely new but the story remains rather unpredictable in all its craziness. It's not always entirely certain why the characters act the way they do, but each and every frame of this movie looks like a frikkin picture. Its picture should be in dictionaries under eye candy. The stunningly beautiful cinematography, sets, costumes and design combined with a pompous soundtrack make up for a lot of plot holes and create a larger than life experience of epic proportions. When the ugly guy in black is not the villain and the pretty bad guy still has the feather-like hairdo after taking his helmet off you realize you're in the middle of a real life manga. The result is so very entertaining, that all its flaws are easily ignored.
[font=Century Gothic]"The Promise" starts out with a young girl, Qingcheng, forced to scavenge food from dead soldiers to feed herself. After having lost a morsel of food, she is approached by the goddess Manshen(Hong Chen) and told that she has a great destiny ahead of her. In exchange, she will lose every man she ever loves. Qingcheng agrees.[/font]

[font=Century Gothic]Flashforward to General Guangming(Hiroyuki Sanada) whose forces are being outnumbered 20,000 to 3,000 against a horde of barbarians. He uses 133 slaves to smoke out the enemy attack, a stampede of bulls, which they do. One of the slaves, Kunlun(Dong-Kun Jang), stops crawling(slaves can only kneel and crawl which makes it very inconvenient if you need them to get something off the top shelf) and begins running very quickly. He outruns the bulls and leads them back to the barbarians, giving the general's forces a rout.(Kunlun is then drafted by the Detroit Lions in the first round of the NFL draft.) The general is so impressed, he appoints Kunlun as his personal slave.[/font]

[font=Century Gothic]And, what about Qingcheng(Cecilia Cheung), you ask? Well, she married the king(Cheng Qian) and is now a princess but the castle is being besieged by the Duke of the North, Wuhuan(Nicholas Tse). So, Qingcheng is on the roof about to invent the striptease as Kunlun rides in masqueraded as General Guangming(long story, trust me)...[/font]

[font=Century Gothic]"The Promise" may be great looking but it is still a mess and it gets more convoluted as it goes along. And it feels like there were essential scenes cut out of it which would have added much needed substance. Overall, the central lessonof the movie is not to make any potentially life changing decisions while on an empty stomach.[/font]
The Promise (Master of Crimson Armor) (Wu ji) Quotes
Discussion Forum
Discuss The Promise (Master of Crimson Armor) (Wu ji) on our Movie forum!
News & Features