Itty Bitty Titty Committee
(2007)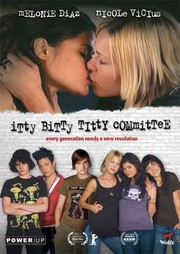 Itty Bitty Titty Committee Trailers & Photos
Movie Info
"Itty Bitty" is a lesbian rock and roll romp about Anna, an insecure, apolitical girl who encounters a radical political art group, falls in love with its leader, Sadie, and transforms from a girl into a woman.
more
Cast
News & Interviews for Itty Bitty Titty Committee
Critic Reviews for Itty Bitty Titty Committee
Audience Reviews for Itty Bitty Titty Committee
I actually turned this one off at one point. It seemed not all that good and cringeably stereotyped with the lesbian/militant feminist thing. My husband was in the room and I actually felt embarrassed as it was so anti men and switched it off. Does equality for women have to mean degrading men?! Surely that makes us as bad as what we're fighting against. His comment was that they were all have to be so angry in these films. I don't think it helps the whole lesbian/man hating cliche to keep doing these portrayls, and alienates straight women, who are surely just as likely to be feminists. I was kind of disappointed in this because I really liked "But I'm a cheerleader" - that one actually did have something worthwhile to say.
I decided to watch the end on my own later on, and while it t did improve a little, not enough to change my overall impression. I liked the actress who played Sadie, she was reasonably convincing, and also the older actress who played her girlfriend. The rest of them were very cliched. Disappointing.
½
"If I can't dance, I don't want to be part of your revolution." - Emma Goldman

In "Itty Bitty Titty Committee," Anna(Melonie Diaz) is in a rut, having just been dumped by her girlfriend and now on the verge of having to suffer through her sister's wedding. After work one night at a plastic surgergy clinic, she stumbles across Sadie(Nicole Vicius) defacing the building on behalf of Clits in Action.(So, that's what CIA stands for?) Sadie invites her to join the group which commits pranks seeking to enlighten the public on feminist issues. While getting a political education, Anna develops a crush on Sadie who is in a relationship with Courtney(Melanie Mayron), a much older woman.

The moral of the crudely made "Itty Bitty Titty Committee" is not to watch a movie just because it has a cool sounding title. While it is refreshing for a movie to take a radical feminist position with a positive attitude, the acting and characterizations leave a little to be desired, even if one of the main characters is transgendered. In a movie about freedom, it is ironic that Anna is particularly feckless, showing little initiative on her own and almost acting brainwashed. And the climax is spectacularly unbelievable and has little connection to any known reality.
Discussion Forum
Discuss Itty Bitty Titty Committee on our Movie forum!
News & Features