The Disappeared
(2008)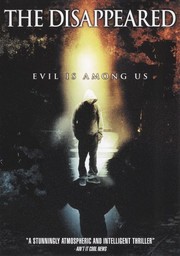 Tickets & Showtimes
The Disappeared Trailers & Photos
Movie Info
Still haunted by the disappearance of his younger brother many years ago, a troubled teen returns to live with his father in London and embarks on a chilling journey to discover what grim fate truly befell his long-missing sibling. Matthew was supposed to be watching Tom the evening that the young boy vanished without a trace, but the passing of years has done little to assuage the older sibling's profoud feelings of grief and loss. Now, as Matthew settles into his father's rundown London loft in an attempt to start life over, Tom's voice begins calling to him from some dark and distant place.
more
Cast
News & Interviews for The Disappeared
Critic Reviews for The Disappeared
Audience Reviews for The Disappeared
Cast: Tom Felton, Harry Treadaway, Ros Leeming, Greg Wise, Alex Jennings, Finlay Robertson, Nikki Amuka-Bird, Georgia Groome, Lewis Lempereur Palmer, Jefferson Hall

Director: Johnny Kevorkian

Summary: When he begins having disturbing visions of his missing brother, Tom, teenager Matthew (Harry Treadaway) tries to understand what's happening. By bravely reopening old wounds from the past, Matthew discovers frightening horrors that must be dealt with immediately. This British psychological horror film also stars Tom Felton as Matthew's best friend, Simon, and Ros Leeming as trusting next-door neighbor Amy.

My Thoughts: "I liked it, didn't love it. I wouldn't consider this a horror film, not even a thriller really. I'd say it's more of a supernatural drama. The acting is good enough. It started off a little slow but as it went along it was kind of like a novel that you can't put down. Its a pretty straightforward ghost story that doesn't really break any new ground, but I was definitely drawn into it. Its a well-done low-budget film. Worth taking a look at."
♥˩ƳИИ ƜѲѲƉƧ♥
Super Reviewer
The Disappeared quite ingeniously tries to blend the Sixth Sense with a murder mystery, but first time Writer/Director, Johnny Kavorkian, takes a big chance by adding a surprise ending, that just destroys anything the film had going for it. When Matt Ryan's (Harry Treadway) little brother disappears, he loses his mind. Upon returning to his home, he starts hearing and seeing his missing brother. Matt feels his brother his trying to tell him something and decides to follow the clues. The story here was actually pretty good, but the film moves at an absolute snails pace, felling well longer than 96 minutes. This is one of those films where they put everything on the surprise ending and save all the good stuff for the lead into it. The problem is that the surprise ending was lame and didn't make a whole lot of sense. There is a lot of symbolism in this film that doesn't make a whole lot of sense, but the ending really just brings it all to a head. British actor, Harry Treadway is the lead and he was really amazing. Treadway manages to mix the depression associated with his brother's disappearance, the feeling that he's losing his mind, and the drive of a man on a mission, resulting in a great performance in an otherwise dull film. The Disappeared had a lot of potential and a unique story, but it moves so slowly that most people will lose interest well before it falls apart at the end.
Discussion Forum
Discuss The Disappeared on our Movie forum!
News & Features