Evilution
(2009)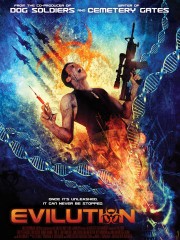 AUDIENCE SCORE
Critic Consensus: No consensus yet.
Tickets & Showtimes
Movie Info
When the United States Army attempts to turn a microscopic extraterrestrial organism into a powerful military weapon, they inadvertently unleash an apocalyptic hell on Earth. It was one of the most incredible discoveries in the history of mankind; a miniscule life form that possessed the power of life over death. But when the military attempted to engineer a genetically altered version of the organism, it turned on them. The intent was to resurrect fallen soldiers to create the ultimate fighting force, but instead the alien turned the soldiers against one another. Meanwhile, an ambitious high school science teacher named Darren steals the only pure specimen. He's convinced he can discover the secrets of life by studying it, but before he does the alien gets loose, quickly infecting the tenants of his apartment building and creating an unstoppable horde of flesh eating super humans. Now, it's up to Darren and a small band of survivors to prevent the infected from reaching the city, and introducing the alien virus to the general population. Should they fail, it could mean the fall of mankind.
more
Watch it now
Cast
News & Interviews for Evilution
Critic Reviews for Evilution
All Critics (1) | Fresh (0) | Rotten (1) | DVD (3)
Nothing original about this zombie/alien horror flick. Seen it all before.
Audience Reviews for Evilution
Following in the vein of 28 Days Later and it's sequel, Evilution is a much weaker form of those two films. It also threw in some elements of Rec., where the people and zombies are holed up in a building.

Here we have a microscopic alien life form that can resurrect the dead and possess them. One lone scientist steals the last specimen in a little vial from the U.S. Army, so he can study it and reverse the process. When a local tenant is mortally wounded, he uses some of the liquid specimen to try and cure him. Obviously, it didn't work. One by one, the tenants in the building he is hiding out in are being possessed by the life form and turning into flesh-eating zombies. This is what happens when you try and play hero.

It's obvious they're running out of ideas for zombie films, but I think they could of came up with a better one than a flesh-eating alien parasite. It just doesn't have that creepy factor like a zombie film is supposed to have. Even the characters come off as idiotic. There's something about the "gangsta" theme in a horror film that doesn't seem right. It just throws the whole thing off for me. I do give this film one thing, though, the adding of the beautiful Sandra Ramirez. I wouldn't mind seeing more roles from her.
Rob Cisneros
Evilution is the story of scientist Darren (Eric Peter-Kaiser) who pulls an Indiana Jones and magically escapes a nuclear bomb that blows up a military base in Iraq where dead soldier resurrection was being attempted but winds up being a zombie outbreak. Now, Darren lays low in a seedy apartment building where he contends with lame gangstas (including Noel, Gugliemi, Guillermo Diaz, and James Duval), a sexy tenant (Sandra Ramírez, who shamefully keeps those big titties covered up), and a crackhead (Billy Morrison) while he perfects the resurrection serum. At this point, one can see where it goes from here as the serum is given to one person who starts spreading the zombie disease amongst all the building's tenants. Big wig military guy Jonathan Breck (who played the Creeper in the Jeepers Creepers films) sends a lone soldier to take out Darren, retrieve the serum, and cover his tracks, but all of them must band together to keep from turning into zombies or letting them out of the building. At first, I genuinely thought this movie was going so suck, but as it went along, I found it more and more engaging and ultimately wound up liking it. Gugliemi (Training Day), Diaz (Half Baked), and Duval (Donnie Darko) had some amusing moments, but for the most part, the acting in the film was a bit rough. Those who have seen Basement Jack will notice a lot of familiarities, as the writer of both films (Brian Patrick O'Toole) reuses some similar things, like the apartment complex and its unusual manager. The film also features a lot of the same people, like Gugliemi, Peter-Kaiser (who stretches his range nicely between both films), and Morrison. Granted, the film starts out rough at first and even seems a bit annoying, but when it gets going, it's actually a lot of fun. Not bad.
Discussion Forum
Discuss Evilution on our Movie forum!
News & Features