1492: Conquest of Paradise
(1992)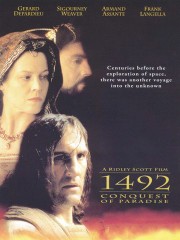 Tickets & Showtimes
1492: Conquest of Paradise Trailers & Photos
Movie Info
This film adheres to the historical facts of Columbus' possessed quest to discover the New World and his solicitation of Queen Isabella to gain the necessary funding. Despite travelogue-quality footage replete with beautiful scenery of Caribbean islands and a massive cast, this film tends to plod along.
more
Cast
News & Interviews for 1492: Conquest of Paradise
Critic Reviews for 1492: Conquest of Paradise
Audience Reviews for 1492: Conquest of Paradise
½
Despite its sweeping ambitions and some memorable images, 1492 is a film that calls too much attention to itself from the miscast roles to the phony accents to the inconsistent character development. The cinematography includes gorgeous shots of the golden sun hovering in the horizon as ships sail off as well as brilliant frames of silhouetted figures running across the native backdrop, and that is all nice, however, the narrative fails to complement as it becomes too plodding and especially cliche. 1492 is an earnest effort that in the end carries way too many flaws from the acting and story front to be considered a recommended viewing.
Long associated with action films and high-brow science fiction adventures, 1492: Conquest of Paradise represents one of director Ridley Scott's less noted films. It's a film that is quiet, grandly scaled, beautifully shot, and very ambitious. It's also a film with narrative flaws, a lethargic pace, and perhaps an overly generous take on Columbus.

The best thing about 1492 is Scott's world building. We are entreated to fantastic cinematography, with shots that capture the vastness, wonder, and yet stark nature of the real world. Scott films his scenes with a masterful sense of scope, never placing his characters above the scenery, as a skillful reminder of the grand stakes at play. The world-building is equally impressive, with sets that are fantastically realized. It's a period piece that doesn't simply look like its' period, but rather inhibits it. As such, the technical merits of 1492 can scarcely be questioned.

The film's narrative, however, is a mixed bag. The performance by Gerard Depardieu was surprisingly strong, offering a more complicated view of Columbus than other film treatments. The supporting cast is also fairly well received, and is served by a script with intelligent dialogue and a keen eye towards subtlety. The trouble comes from the film's almost disengagement with its subjects. We see Columbus's struggles, but never feel them. We see the stakes, but never quite feel involved in them. The film suffers from a disengagement, most likely originating from it hands-off approach towards Columbus. Had the film tried to be more of a character study, giving us more of the human dynamics (particularly the politics involved), it would have been more successful. The treatment of Columbus is also undeniably generous, painting a man ahead of his time, relentlessly ambitious, but also exceedingly humane. History would perhaps suggest some of these notions are a bit dubious, Columbus was a rather hard man.

Overall, however, I found the film engaging. The technical merits alone made it always watchable, and the story itself was treated with great respect by Ridley, who populates the story with interesting characters, strong performances, and large scale, though with plenty of problems along the way.

3/5 Stars
Discussion Forum
Discuss 1492: Conquest of Paradise on our Movie forum!
News & Features