1941
(1979)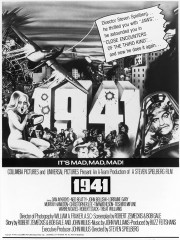 Tickets & Showtimes
1941 Trailers & Photos
Movie Info
It's December of 1941, and the people of California are in varying states of unease, ranging from a sincere desire to defend the country to virtual blind panic in the wake of the Japanese attack on Pearl Harbor. Thus begin several story threads that comprise the "plot" of this strange period comedy, a sort of satirical disaster movie, from Steven Spielberg. The stories and story threads involve lusty young men, officers (Tim Matheson) and civilians (Bobby Di Cicco) alike, eager to bed the young ladies of their dreams; Wild Bill Kelso, a nutty fighter pilot (John Belushi) following what he thinks is a squadron of Japanese fighters along the California coast; a well-meaning but clumsy tank crew (including John Candy) led by straight-arrow, by-the-book Sgt. Tree (Dan Aykroyd), who doesn't recognize the thug (Treat Williams) in his command; and homeowner Ward Douglas (Ned Beatty), who is eager to do his part for the nation's defense and, despite the misgivings of his wife (Lorraine Gary), doesn't mind his front yard overlooking the ocean being chosen to house a 40 mm anti-aircraft gun. There is also a pair of grotesquely inept airplane spotters (Murray Hamilton, Eddie Deezen) who are doing their job from atop a ferris wheel at a beachfront amusement park; a paranoid army colonel (Warren Oates) positive that the Japanese are infiltrating from the hills; a big dance being held on behalf of servicemen, being attended by a lusty young woman of size (Wendie Jo Sperber) eager to land a man in uniform; and General Joseph "Vinegar Joe" Stillwell (Robert Stack), in charge of the defense of the West Coast, who can't seem to get anyone to listen to him when he says to keep calm. And, oh yes, there's also a real Japanese submarine that has gotten all the way to the California coast under the command of its captain (Toshiro Mifune) and a German officer observer (Christopher Lee), only to find itself without a working compass or usable maps. Its captain won't leave until the sub has attacked a militarily significant, honorable target, and the only one that anyone aboard ship knows of in California is Hollywood. By New Year's Eve, all of these characters are going to cross paths, directly or once-removed, in a comedy of errors and destruction strongly reminiscent of the finale to National Lampoon's Animal House (as well as several disaster movies from the same studio), but on a much larger and more impressive scale.
more
Cast
News & Interviews for 1941
Critic Reviews for 1941
Audience Reviews for 1941
½
Steven Spielberg's star was already assured by the time he made this, this petite monster, garish, crude and loud, hobbled together with elements from other films (like some of the cast of Animal House, some of the madcap of The Russians Are Coming, The Russians Are Coming, an altered version of Benny Goodman's Sing, Sing, Sing, that wacked out cowboy pilot from Doctor Strangelove, etc., etc., etc.), all in an hope to achieve "zany!" ... which he misses by that much. Pass.
Steven Spielberg's 1941 is an underrated comedy that is far better than what most people have said about it. The film has its weak points of course, but nonetheless is an amusing and entertaining picture that is sure to amuse anyone looking for a good little flick to watch. 1941 is a good film, one that has enough good material to make it worth seeing. Spielberg has made better films of course, but this is an enjoyable, underrated film from him. I found that there were quite a few comical moments on-screen, even if it wasn't hilarious, it was still nonetheless a funny, entertaining and watchable film that shouldn't be passed up. Although funny, at times, the material could have been better in order to make it a better, more memorable film. Enjoyable for what it is, almost to the point where the gags try to outdo the audacious scope of the film. In turn, some of the comic bits do suffer, and it's not as funny as it should be. I laughed quite a few times, but I really expected something more out of the film. 1941 boasts a great cast of talented actors that elevate the sometimes lacking material and Spielberg's direction more than makes up for what's missing in the movie. If you're looking for a great comedy, you won't find it here. The film, like I said, provides laughs, but leaves a lot to be desired after the credits start to roll. Worth seeing if you love Spielberg, just don't expect a highly memorable comedy. 1941 is fun, but flawed, but in the end, it's not as bad as what everyone has said about it.
Discussion Forum
Discuss 1941 on our Movie forum!
News & Features