2LDK
(2002)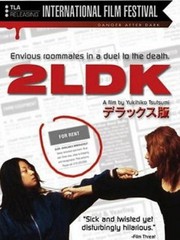 Tickets & Showtimes
2LDK Trailers & Photos
Movie Info
2LDK is part of the "Duel Project," in which super-efficient directors Yukihiko Tsutsumi and Ryuhei Kitamura (Versus), who had both worked on the anthology Jam Films, were each challenged to take one week and make a feature with two actors dueling in a single setting. Kitamura wrote and directed the samurai film Aragami, while Tsutsumi created the urban warfare story 2LDK. The title is an abbreviation, as one might see in a Japanese classified ad, for a two-bedroom apartment with a living room, a dining room, and a kitchen. In 2LDK, Nozomi (Eiko Koiki) is a quiet, compulsively neat country girl who has recently moved to Tokyo in hopes of beginning a film career. Her roommate, Lana (Maho Nonami), is also an actress, but she's been at it for a while. She's brash about using her sexuality to get what she wants, while Nozomi is repressed. The personal space issues that afflict every roommate situation are exacerbated by their wildly different temperaments. While Lana is racked with guilt over a past indiscretion that ended in tragedy, Nozomi is used to being a big fish in a small pond, and has trouble dealing with the pressures of big-city life. When they learn that they're up for the same part in a big film production, the tension mounts. Lana pushes Nozomi's buttons by implying that she's been intimate with a mutual acquaintance she knows is courting Nozomi. Nozomi, who diligently marks nearly every item in the apartment with the first initial of its proper owner, lashes out when she discovers that Lana has used her shampoo, and things gradually escalate from there into an all-out, kill-or-be-killed war.
more
News & Interviews for 2LDK
Critic Reviews for 2LDK
Audience Reviews for 2LDK
This is one of the movies done for the "Duel Project". The other movie is Aragami. Basically it was a challenge sent out to a couple of directors from a producer. I tell you, these Japanese know how to conduct movie business. Anyway here is the terms of the project:-one set.- two to three characters.- the characters have to fight each other.- at least one of the characters must die.- filmed in seven days."2LDK" stands for 2 bedrooms, living room, dining room, and kitchen. Why is that important to know? Well this is your entire set that you will be seeing for this short 70 minute film. Also, if you've read the rules above, there are only 2 characters in this film. One being played by Eiko Koike (Nozomi) and the other by Maho Nonami (Lana). There are actually a few other characters but they have no lines or their voices are only heard over the phone.The story is really simple and not deep or complex at all. In a way, this is alright since the movie is only 70 minutes, but it would have been nice to have a little more of a deeper story. There is some nice cinematography at certain points, but overall it isn't anything really spectacular. This movie actually seemed like it would have had a lot of potential to have some nice camera work since it is only one setting, but it seemed to fall just a bit short with it.The dialogue is pretty good and more on the funny side, which is needed to help push this movie along with its simple story. The film actually does something interesting throughout the movie and that is it lets you hear the thoughts that the characters are actually thinking. You get a lot of this in the first half of the movie and this is where most of the comedy comes in, since most of the thoughts are sarcastic remarks. Although you do get a lot of girl-talk in the beginning, this movie will be highly entertaining for the male population. I don't have to explain what every male will be thinking about while watching this. Especially the oil rub scene.The action kicks in at about the 40 minute mark. Basically the first half is all talk while the second half is an all out "cat fight." It is somewhat violent and a tad gory, but for some reason it is funny. I mean you've got two young women literally destroying each other with whatever they can find in their apartment and I find myself chuckling when one of them is electrocuting the other. I will find it hard for anybody not to laugh.The acting is pretty good. Eiko Koike does a good job as the shy timid good girl, while Maho Nonami plays the exact opposite of whatever Eiko is. You can already see why they are at odds with each other.In the end this movie could have been a little better if it had a more rich story and maybe some more interesting camera work, but it will entertain you. With the rules that were imposed on the project this is definitely a nice piece of work.My choice for the winner: Aragami, and it wasn't based on the fact that I'm a Kitamura fan.Watch both films and make your own decision.
With some actresses I know, this could be considered a documentary.
Discussion Forum
Discuss 2LDK on our Movie forum!
News & Features