3 Ninjas: High Noon at Mega Mountain
(1998)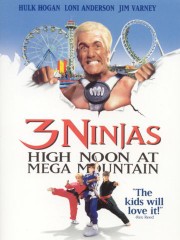 AUDIENCE SCORE
Critic Consensus: No consensus yet.
3 Ninjas: High Noon at Mega Mountain Trailers & Photos
Movie Info
This is the fourth in the 3 Ninjas action-adventure series with retired ninja Grandpa Mori (Victor Wong) as the connective device linking all four films. Following the low-rent 3 Ninjas Knuckle Up (a 1992 production which went unreleased until 1995), the fourth boosts the budget and features three new lead youngsters plus assorted "guest stars." Grandpa Mori teaches martial arts to his three grandchildren: 15-year-old Rocky (Mathew Botuchis), 14-year-old Colt (Michael J. O'Laskey II), and 8-year-old Tum Tum (J.P. Roeske II). On a trip to the Mega Mountain amusement park, the three boys are joined by their computer genius neighbor, 13-year-old Amanda (Chelsey Earlywine), daughter of a movie special FX designer. The villainous Medusa (Loni Anderson) leads a ninja army to Mega Mountain. With her head henchman Lothar (Jim Varney), Medusa intends to move into Mega Mountain's master control center and hold the park patrons for a $10 million ransom. However, former TV star Dave Dragon (Hulk Hogan) happens to be making an appearance at the park, and the combination of Dave, Rocky, Colt, Tum Tum, and Amanda makes life difficult for Medusa and her warriors.
more
Sony Pictures Home Entertainment
Cast
News & Interviews for 3 Ninjas: High Noon at Mega Mountain
Critic Reviews for 3 Ninjas: High Noon at Mega Mountain
Audience Reviews for 3 Ninjas: High Noon at Mega Mountain
I only saw this movie because a younger sibling was watching it. I didn't want to see it really, and I regret watching it. I'm glad they've stopped making the 3 ninjas movies.
Yes. I bought the DVD and gave it a high rating. Don't hate me. The reason for the rating and the fact I bought it was because of Jim Varney. He does an excellent job as Lothar Zogg and is sexy to boot. Before we all start hating on Hulk Hogan, let's take a look at Loni Anderson who, by far, takes the 'Most Wooden Performance Award' of the century. She was not convincing at all as Medusa and if this is a kids' movie, why was she wearing that skanky outfit? She was much better on 'WKRP in Cinncinati'. Mr. Varney steals the show and I would've been happy to see him in every scene. He truly oustshines the entire cast, including the three ninjas themselves. I was actually rooting for Lothar to be successful in his mission. Tum Tum's yells started grating on my nerves after a while. Medusa's nephews, where do I start? How did they ever break into the theme park? All, but Lothar, didn't have the intelligence to do such a thing. Ok, Victor Wong was great, too. Maybe if Varney had cast and directed this movie, it wouldn't have flopped. Only Varney seemed to give 100% to his role. The rest? Well, I would've been satisfied if it was a one man show staring Varney. Oh, wait, I have his commercials. Now, that's worth watching repeatedly. If you're really, truly a fan of Varney's then you might want to get this simply for him and in his memory. If not, leave it in the bin.
Stacy Avary
Super Reviewer
Discussion Forum
Discuss 3 Ninjas: High Noon at Mega Mountain on our Movie forum!
News & Features