Edison, the Man
(1940)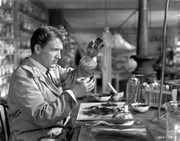 Tickets & Showtimes
Edison, the Man Trailers & Photos
Movie Info
In 1940, MGM turned out two films on the life of Thomas Alva Edison.The first, Young Tom Edison, starred Mickey Rooney and trotted out all the old Edison folklore, including the now-discredited incident in which Tom loses his hearing by being yanked onto a train by his ears. Edison the Man, starring Spencer Tracy in the title role, downplays certain inconvenient facts (including Edison's strong-arm tactics to protect his patents), but adheres more closely to actual events than its predecessor. The story concentrates on Edison's most productive years, from 1872 to 1882 (surprisingly ignoring his role in the development of the motion picture!) The inventions invented herein include the ticker-tape machine, the phonograph, the Dictaphone, and of course the electric light. Gene Lockhart is on hand to once more perform his movie specialty of the blinkered financier who can see no future in Edison's crazy schemes. The film tries to stir up suspense by giving Edison only six months to complete his dream of illuminating the streets of New York, lest he lose the contract--and, by extension, his credibility. While Young Tom Edison had unexpectedly lost money, Edison the Man was a success; as for Spencer Tracy, he was a versatile enough actor to escape the fate of poor Don Ameche, who was forever and inextricably associated with his portrayal of Alexander Graham Bell.
more
Cast
News & Interviews for Edison, the Man
Critic Reviews for Edison, the Man
Audience Reviews for Edison, the Man
Starts with him as an old man being honored and interviewed.

The film comprises of a flashback that shows what led to him lighting up New York City with electricity.

Edison reveals in an interview that he does not cary a watch. I found that interesting as well.

This film covers the struggles Edison faced to invent the lightbulb and up to lighting up New York City and some of the other inventions that came through his associate workers such as recording sound.

What I did not know before this film was that Edison's first invention was not the lightbulb or that so many doubted Edison's ability to make the lightbulb before he found a way to make it work for long periods of time. I did not know that he tried making the lightbulb at first without something to confine it. I also did not realize what helped sustain the lights energy was a lack of oxygen and more of vacuum or another gas prior to see this film. I always thought it was just to protect anyone from getting shocked by electricity be accident.

At the end Edison as an older man gives a speech where he has concerns over Has science gone too far to construct mans own destruction balance. Is it Man's own destiny. Could man have constructed it's own destruction by the technological innovations it has come by? I found it kind of ironic that the end of the film would end with questioning his or human inventions to think such a good thing was so bad.
Inspirational in that he had to try try again before he got it right.He never gave up, a lesson we can all afford to learn during these hard times.
Discussion Forum
Discuss Edison, the Man on our Movie forum!
News & Features