The Lion King
(1994)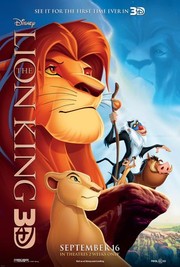 TOMATOMETER
AUDIENCE SCORE
Critic Consensus: Emotionally stirring, richly drawn, and beautifully animated, The Lion King stands tall within Disney's pantheon of classic family films.
The Lion King Trailers & Photos
Movie Info
One of the most popular Disney animated musicals, The Lion King presents the story of a lion cub's journey to adulthood and acceptance of his royal destiny. Simba (voiced first by Jonathan Taylor Thomas, then by Matthew Broderick) begins life as an honored prince, the son of the powerful King Mufasa (voiced by James Earl Jones). The cub's happy childhood turns tragic when his evil uncle, Scar (voiced by Jeremy Irons), murders Mufasa and drives Simba away from the kingdom. In exile, the young lion befriends the comically bumbling pair of Pumbaa the warthog (voiced by Ernie Sabella) and Timon the meerkat (voiced by Nathan Lane), he and lives a carefree jungle life. As he approaches adulthood, however, he is visited by the spirit of his father, who instructs him to defeat the nefarious Scar and reclaim his rightful throne. Borrowing elements from Hamlet, classical mythology, and African folk tales, The Lion King tells its mythic coming-of-age tale with a combination of spectacular visuals and lively music, featuring light, rhythmic songs by Elton John and Tim Rice, and a score by Hans Zimmer. Embraced by children and adults alike, the film also spawned hit songs ("Can You Feel the Love Tonight," "The Circle of Life") and a hit Broadway musical. In late 2002, The Lion King was re-released in the large-screen IMAX format. ~ Judd Blaise, Rovi
more
Watch it now
Cast
News & Interviews for The Lion King
Critic Reviews for The Lion King
Audience Reviews for The Lion King
½
(3D review) When hearing they were remaking one of my favorite Disney animated films in 3-D for its 20th anniversary, you can bet I got hyped, and boy did this film not disappoint. I saw this on opening day, now prior to hearing about this I hadn't seen the film in about 3 years so I didn't want it to be ruined if I watched it the week/night/month before seeing the film, and that was a wise decision on my part, because the refreshing of my memory with this film worked and it was almost like a new experience to me. Also the 3-D in this film is incredible, I'm rarely blown away by 3-D but here, my god, the 3-D matched the animation so perfectly, that this film and 3-D were made for each other.
Michael Edwards
Super Reviewer
½
A well made film with beautiful animation and a great soundtrack. Many of the themes are for a mature audience which isn't necessarily surprising for a Disney feature. It offers a powerful story that can be enjoyed by kids and adults. "The Lion King" is a film that defined my childhood and is one I still enjoy.
Eric Shankle
Super Reviewer
The Lion King Quotes
Scar: I was on first until that little hair ball was borned.
Mufasa: That hair ball is my son and your future king.
Shenzi: Whoa! Whoa! Wait, Wait Wait! I know you, you're Mufasa's little stooge..
Simba: Rooooar Roooar Rooar!
Shenzi: What!? Is that it? Do it again, come on.
Zazu: Wrong! The only checking out you will do, is to check out of here.
Young Simba: Aww, man!
Zazu: We're way beyond the boundaries of the Pride Lands.
Simba: Old banana beak is scared.
Zazu: That's Mr. Banana Beak to you fuzzy. And I sense right now we are all in very real danger.
Young Simba: Danger, ha! I look on the wild side. I laugh at the face of danger, hahahaha.
Discussion Forum
Discuss The Lion King on our Movie forum!
News & Features