A Bag of Hammers
(2012)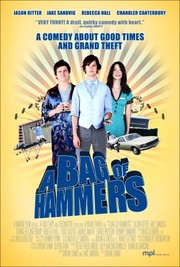 Tickets & Showtimes
A Bag of Hammers Trailers & Photos
Movie Info
A Bag of Hammers revolves around the friendship of two charming grifters, Ben and Alan, played by Jason Ritter and Jake Sandvig. Ben and Alan have built a successful though larcenous business, posing as car valets, only to steal the vehicles instead of parking them. Because of their less-than-ideal childhoods and a "job" that allows them to remain likeable boyish rogues well into their 20's, their penchant for crime is almost forgivable. However, everything changes when they meet a twelve-year-old boy named Kelsey. Neglected by his mother, Kelsey is drawn to Ben and Alan and they to him--eventually, Kelsey becomes part mascot, part protege. His presence ultimately forces Alan and Ben to choose between a life of crime and fun (an extended childhood) and the opportunity to grow up and deal with the emotional consequences that come with it. -- (C) Official Site
more
Cast
News & Interviews for A Bag of Hammers
Critic Reviews for A Bag of Hammers
Audience Reviews for A Bag of Hammers
paul sandberg
Super Reviewer
"A Bag of Hammers was a nice surprise. I'm not sure what I expected, but it wasn't what I got. The movie is emotionally dark. There is some humor in there as well, but the story itself is emotional, sad, and depressing. My heart ached for the characters. You don't get much information on Ben and Alan's childhood, but the pieces you do get tells a story of broken homes with abusive neglecting parents. So when Kelsey enters their lives, with his situation being similar, it's hard not see themselves in the young boy.
In the scene where Lynette is in the backyard hanging her clothes on the line and she calls her son stupid and the spawn of satan, I wanted to go through the screen and beat the crap out of her. But in the end, I kinda felt sorry for her. I learned a long time ago that there are parents who are just not meant to be parents. They just don't know how to be. I think Lynette falls in this category. Unfortunately, poor Kelsey ends up with two parents who would rather not be parents and want nothing but to be rid of him.
The story really grabbed at my heart strings and I thought Chandler Canterbury did an amazing job in his role.
Jason Ritter is just as talented as his late father. I really enjoy his acting. I really liked Jake Sandvig in this as well. I don't know if I've seen him in anything else, I'd like to think I would remember. I liked him a lot in this.
Amanda Seyfried plays a small role. But even in that small part she dominates the screen. I'm liking her the more I see her in films.
If you like indie flicks then this should be something you would enjoy.
Also just anohter little tidbit; The way these two, Ben and Alan, make their living isn't new, but the way they go about it is so, so, so mest up. You will have to see the movie to understand what I mean.
Great movie, I would definitely see it again."
♥˩ƳИИ ƜѲѲƉƧ♥
Super Reviewer
½
In "A Bag of Hammers," Ben(Jason Ritter) and Alan(Jake Sandvig, who also co-wrote with director Brian Crano) are a couple of con men who specialize in stealing cars from cemeteries. They figure that has to be better than the gig Melanie(Rebecca Hall), Alan's sister, has as a waitress in a waffle house. There is also Ben and Alan's sideline interest in real estate where they rent a house to Lynette(Carrie Preston) who can barely make ends meet or take care of her son Kelsey(Chandler Canterbury).

With a very good cast(Gabriel Macht is around here somewhere) and a refreshingly positive take on irresponsibility, "A Bag of Hammers" still cannot overcome its awkward blend of quirky and realism. First, if you are going to have quirky thieves, you need to have them steal quirky things. By comparison, no matter their modus operandi or how much they do not want to admit it to themselves, Ben and Alan are in the big leagues by stealing cars. On the other side, as the only places she apparently looks for work is from temp agencies, Lynette is badly underwritten, which cannot be improved upon no matter how much life Carrie Preston may try to futilely breathe into her. And without much in the way of a plausible story, that's pretty much it, except for one nice long shot of bad news being delivered.
A Bag of Hammers Quotes
Ben: Tea is civilizing. People drink it in centers of learning.
Ben: We all get a bag go hammers, whether it's being poor or catching cancer, divorce or losing your brother, or losing your mother. You know what I mean, Kelsey. It's what you do with these hammers.
Alan: Stay in school. Don't drink and drive. Just say no.
Alan: You speak in Michael Bolton lyrics.
Amanda: Fuck you, Alan and you have a little dick.
Discussion Forum
Discuss A Bag of Hammers on our Movie forum!
News & Features