A Five Star Life
(2014)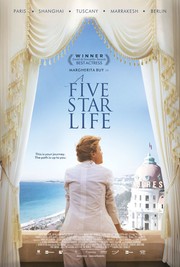 Tickets & Showtimes
A Five Star Life Trailers & Photos
Movie Info
A Five Star Life is the sophisticated and delightful story of one woman's quest for personal and professional fulfillment set against some of the most stunning cities and opulent hotels of the world. Stylish and independent, Irene (Margherita Buy) is a single career woman in her forties with a job to die for. As a luxury hotel critic, she checks into the world's finest establishments incognito to assess their standards, meticulously judging every detail from the concierge's manners to the temperature of the food to the quality of the bedsheets. Her elegant, unattached lifestyle affords her the freedom to jet around the globe at a moment's notice to experience a world of luxury, but doesn't leave her with much of a personal life. On the rare occasions she's not working, Irene's world revolves around her absent-minded sister Silvia (Fabrizia Sacchi), two lively young nieces, and best friend--and former lover--Andrea (Stefano Accorsi). But when Silvia begins to deal with marital problems and Andrea faces an unexpected life change, Irene's small support network is fractured and she struggles to balance a glamorous career with the growing desire for something more. After a chance meeting shakes up her worldview even more, she's compelled to reexamine her choices and charts her own path to happiness despite the expectations of others. Described by The Hollywood Reporter as "part Up In The Air, part Eat Pray Love," A Five Star Life is a warm and heartfelt trip worth taking. (c) Music Box Films
more
Cast
News & Interviews for A Five Star Life
Critic Reviews for A Five Star Life
Audience Reviews for A Five Star Life
solidity quark
"Up in the Air" meets "I Am Love," but with a nice feminist twist where the female protagonist doesn't actually need a man to be happy. That's how I'm billing "A Five Star Life" ("Viaggio Sola," or "I Travel Alone," in the original Italian) and I'm sticking to it! In this visually sumptuous (sponsored by "The Leading Hotels of the World!") coming-to-terms-with-life story about a visually sumptuous middle-aged woman - an amazing Margherita Buy ("We Have a Pope") - we meet Irene (Buy), a luxury hotel inspector who travels the world for an agency that rates five-star hotels to determine whether they still deserve all five of those stars. Along the way, she is forced to rate her own romance-free child-free life and determine the best path forward.

On the one hand, it's a beautiful movie, buoyed by Buy's magnificent performance, and like "The Trip to Italy" and "Magic in the Moonlight" offering the viewer the aesthetic delights of gorgeous locations that (somewhat) make up for flaws in the screenplay. On the other hand, however, those flaws accumulate to the point where the script and characters become too schematic: conversations between Irene and her sister, and Irene and her former lover feel overwhelmingly expositional; a late arrival to the story - a British feminist intellectual - is inserted into the plot, it seems, merely to force Irene into self-awareness. Still, there's something to be said for elegantly presented and marvelously acted eye candy, and you could do worse than spend 85 minutes (blessedly short!) watching Margherita Buy traipse through some of the most stunning hotels in the world.
Solid 4/5 stars. Imagine... not s single shot fired, no guns, no in-your-face hypergymnastic sex. Nope... just a very pleasant diversion with sensational scenery and good looking people telling a simple story very aptly.
Carl Palminteri
Discussion Forum
Discuss A Five Star Life on our Movie forum!
News & Features