Abandoned Mine
(2013)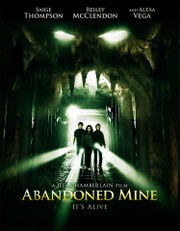 AUDIENCE SCORE
Critic Consensus: No consensus yet.
Abandoned Mine Trailers & Photos
Movie Info
In ABANDONED MINE, five small-town school friends celebrate Halloween with an overnight adventure into the legendary "haunted" Jarvis Mine. Local legend tells of the angry spirits that have occupied the mine since a family was murdered for still mysterious reasons exactly 100 years ago. But that doesn't stop these young adrenaline junkies from exploring the unknown - and bringing mini-cameras to capture their every move. (c) Gravitas
more
Cast
News & Interviews for Abandoned Mine
Critic Reviews for Abandoned Mine
All Critics (2) | Top Critics (1) | Fresh (1) | Rotten (1)
"Abandoned Mine" is all that its title promises: something generic and empty, with the sense that much has been left behind.
Los Angeles Times
Top Critic
...it delivers a handful of creepy moments and the opening-credits montage of old newspaper accounts of the Jarvis family's fate is genuinely disturbing.

Film Journal International
Audience Reviews for Abandoned Mine
Abandoned Mine (Jeff Chamberlain, 2013)

Abandoned Mine started off with a bang-there are some nifty filmmaking techniques that make it seem like you're going to get something much more than you are from this low-budget horrorfest. For some reason, however, Chamberlain abandons the pretense to the avant-garde once things get rolling, and we end up with a straightforward haunted-mine tale, mediocre but watchable.

Plot: Brad (Pearl Harbor's Reiley McClendon) is a post-high-school layabout in a small rural town, bored out of his skull. His ex-girlfriend Laurie (Reservations' Saige Thompson) is back in town, so he cooks up an idea-the two of them, Brad's current girlfriend Sharon (Spy Kids' Alexa PenaVega), Laurie's schoolmate Ethan (High School Musical 2's Charan Prabhakar), and Brad's best friend Jim (Radio Flyer's Adam Hendershott), will spend the night near the mouth of the legendary Jarvis Mine, supposedly haunted by the family of the Jarvis that the mine is named for. A thunderstorm drives them inside, and weird things start happening...

Unfortunately, none of those weird things are terribly unpredictable; you should be on the right track relatively soon, and from there, aside from some appealing ambiguity as to what's really going on with one of the characters, it unfolds in paint-by-numbers fashion. This has a surprisingly high-powered cast for such a shoestring affair, and despite being stereotypes, the characters are at least affable (I waffled the whole movie on whether Ethan was offensive or the best character in the entire movie). I've seen far worse movies this year, but I've seen far better as well. **
I don't know how this got 60%, but it is terrible. Badly shot, badly acted, racist and boring. It ALMOST redeemed itself near the end with the "surprise reveal", but it could never quite get there, and then it just failed again. I love horror movies, and I've watched a ton of them and am always looking for good ones, but this one just lost me right at the beginning and never got my attention back. A joke of a movie. If I could give it no stars, I would. Seriously disappointing.
Stephanie Smith
Discussion Forum
Discuss Abandoned Mine on our Movie forum!
News & Features