Abbott and Costello Meet the Invisible Man
(1951)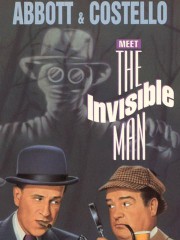 Tickets & Showtimes
Movie Info
The best of Universal-International's followups to Abbott & Costello Meet Frankenstein, Abbott & Costello Meet the Invisible Man casts Bud and Lou as mail-order private eyes. The boys champion the cause of boxer Arthur Franz, who has been framed for murder. Utilizing the formula created by Claude Rains in the original Invisible Man (1933), Franz vanishes before Dr. Gavin Muir's astonished eyes. Cloaked by invisibility, Franz talks Bud and Lou into helping him nab the real murderer, gangster Sheldon Leonard. A string of uproarious gags and comic setpieces is highlighted by a boxing-ring finale, wherein Lou, backed up by the invisible Franz, dukes it out with a behemoth prizefighter. A clever special-effects closing gag caps this delightful A&C vehicle.
more
Cast
News & Interviews for Abbott and Costello Meet the Invisible Man
Critic Reviews for Abbott and Costello Meet the Invisible Man
Audience Reviews for Abbott and Costello Meet the Invisible Man
½
The best of Abbott & Costello's follow-ups to meeting Frankenstein and way superior to all of the Invisible Man sequels, Meet the Invisible Man actually boasts the most laugh-out-loud moments from their monster team-ups. Oh, like the film before it, the story and action play out at an almost childlike level. Still, the boxing match alone demonstrates the high points of each franchise: great special effects and hilarious visual gags.

In this classic Universal horror-comedy, two bumbling private eyes (Abbott, Costello) help a man wrongly accused of murder (Arthur Franz) who has become invisible to help clear his name.

Filmgoers cant help but love this exceptional blending of comedy and horror. The comedy team fire on all cylinders as inept sleuths who just graduated from a detective correspondence school. What constitutes a story earns more plaudits than its contemporaries (the convict-clearing-his-name bit already got used in The Invisible Man's Return and The Invisible Man's Revenge) because its purposely played for laughs, not unintentionally.

Bottom line: H.G. Well Done
Another one of my faves. The boxing match in this one is hilarious. Very, very funny.
Discussion Forum
Discuss Abbott and Costello Meet the Invisible Man on our Movie forum!
News & Features