Afterglow
(1997)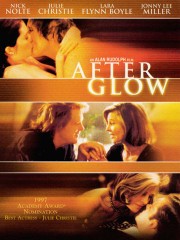 Tickets & Showtimes
Afterglow Trailers & Photos
Movie Info
When the lives of two unhappily married couples intertwine, the result is chaos. This convoluted, episodic comedy-drama from Robert Altman-protege and long-time associate Alan Rudolph follows their mutual journey. The union between Lucky "Fix-It" Mann (Nick Nolte) and his beautiful wife Phyllis (Julie Christie) has never been the same since the night their daughter overheard a particularly bitter argument between them and fled the house forever. A former low-budget movie actress, Phyllis is depressed and spends much of her time gazing wistfully at her old films and mooning over her happy past. She and Lucky haven't touched each other in ages. The same holds true for fast-track corporate executive Jeffrey Byron (Jonny Lee Miller and his wife Marianne (Lara Flynn Boyle). Marianne desperately wants children and needs affection, but the job-obsessed Jeffrey refuses to satisfy her. The two live in a fabulously appointed duplex. One day they hire a handyman to make routine repairs and in walks handsome Lucky. Marianne is instantly attracted to him and they begin a passionate affair. Meanwhile, Jeffrey meets the worldly Phyllis and they too begin an adulterous tango. The illicit love stories crisscross for a time but reach their denouement when all four accidentally meet in a posh Montreal hotel bar.
more
Watch it now
Cast
News & Interviews for Afterglow
Critic Reviews for Afterglow
All Critics (50) | Top Critics (14) | Fresh (23) | Rotten (8) | DVD (4)
The still strkingly beautiful Julie Christie renders such as glowing performance that she alone justifies viewing this incurable, frivolous romantic serio-comedy in which she plays B-Movie actress!

Chicago Sun-Times
Top Critic
Entertainment Weekly
Top Critic
Globe and Mail
Top Critic
Audience Reviews for Afterglow
Bruce Bruce
Super Reviewer
Julie Christie is radiant as the wronged wife easily outshining the rest of cast. It's a pity she doesn't work more but it makes each time she does something special.
½
[font=Century Gothic]In "Afterglow", Jeffrey Byron(Jonny Lee Miller) is a young executive who enjoys taking breaks walking on the ledge of his building. His wife, Marianne(Lara Flynn Boyle), is ovulating and desperately wants to get pregnant but Jeffrey is not obliging. Luckily, she still needs some work done on her home which requires a handyman, Lucky(Nick Nolte), who was recommended to her. Aside from repairing homes, Lucky also seems to be having sex with most of the housewives in the greater Montreal area, with the exception of his own wife, Phyllis(Julie Christie), a former B-movie actress.(Apparently, they have an open marriage under which Lucky can have sex with other women, just as long as he sleeps in his own bed.)[/font]
[font=Century Gothic][/font]
[font=Century Gothic]"Afterglow" is a very uneven movie about consequences and how women are taken for granted in our society. But there is little real drama to speak of and the extraneous subplots do not help. Luckily, writer-director Alan Rudolph's horrible comedic instincts do not come into play. Nick Nolte has rakish charm to spare and Julie Christie does an excellent job in deftly avoiding playing a caricature. Lara Flynn Boyle starts out at awful but gets better as the movie goes on. Jonny Lee Miller simply comes off as flat.[/font]
Discussion Forum
Discuss Afterglow on our Movie forum!
News & Features