Ai Weiwei: The Fake Case
(2014)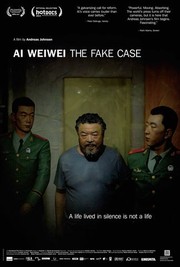 Ai Weiwei: The Fake Case Trailers & Photos
Movie Info
After 81 days of solitary detention world famous Chinese artist Ai Weiwei is put under house arrest. He suffers from sleeping disorder and memory loss, 18 cameras are monitoring his studio and home, police agents follow his every move, and heavy restrictions from the Kafkaesque Chinese authorities weigh him down. Picking up where Alison Klayman's Ai Weiwei: Never Sorry left off, AI WEIWEI THE FAKE CASE is more explicitly political, reflecting Ai's battle against the gigantic lawsuit thrust upon him by the Chinese government in an effort to silence him. Ai Weiwei is shaken, but during his year on probation he steadily finds new ways to provoke and challenge the mighty powers of the Chinese authorities in his fight for human rights and free expression. The film also features the creation of S.A.C.R.E.D., a new work depicting Ai's time in prison, which premiered during the Venice Biennale. (C) International Film Circuit
more
Cast
News & Interviews for Ai Weiwei: The Fake Case
Critic Reviews for Ai Weiwei: The Fake Case
Audience Reviews for Ai Weiwei: The Fake Case
½
After he is released on bail and probation after being detained on charges of tax evasion, the dissident, renegade and gadly artist Ai Weiwei is told by his mother that if this had been happening in the 50's, the Chinese authorities would have simply had him shot. Instead, the authorities go for the death of a thousand cuts, removing his presence from the local interenet, as it is also remarked how much weight Ai Weiwei lost while in prison. But this different approach has less to do with how the Chinese government might have mellowed over the decades, than as to how the world has changed with almost everybody having a camera, thus making it that much harder for a government to disappear a promiment personality totally from view. Luckily, at least one of those cameras belongs to a camera crew which is where this documentary comes in, circumventing the rule against his giving interviews.

Otherwise, Ai Weiwei continues to not only make the work of the Chinese government public but also against their liking simple nudity to pornography which is not only the custom there, as he also puts out his rotund form to make his point. To his credit, he is less interested in power than in inspring others which is where a spectacular flight of paper airplanes comes into play. All the while, he maintains an apartment tantalizingly across the street from the American embassy where a parachute would definitely come in handy.
We return to Ai Weiwei after his detention by Chinese authorities. After an initial silence, truths bubble to the surface as a true rebel emerges in all his glory.
Discussion Forum
Discuss Ai Weiwei: The Fake Case on our Movie forum!
News & Features